It is November 2019 when Wim Kamerman reports for the graduation ceremony of his Business Information Technology programme. As for many alumni, this day marks the end of an era and the beginning of a new one. For Kamerman, that new era began rather abruptly. While enjoying a beer, fellow alumnus Tibor Casteleijn told Kamerman about Clairify, a start-up he had set up with Felix van den Horst during an entrepreneurship minor at the University of Amsterdam. Casteleijn informed Kamerman that they had a spare ticket to Web Summit, a renowned technology conference in Lisbon. When would they leave? The next morning, at 6 am, from Schiphol Airport.
'Air quality has always been overlooked'
Clairify's founding trio found each other in an Airbnb in the Portuguese capital. They cracked down on an 'invisible problem', says Kamerman. 'When we consider the comfort of our indoor spaces, we basically look at four factors: temperature, acoustics, light and air quality.' And this latter factor in particular has always been overlooked, Kamerman argues. 'In spite of the fact that air quality has a demonstrably negative effect on a person's cognitive ability. Surely everyone has experienced that dull feeling, those moments when you feel like there's smog in your brain. These moments don't just come out of nowhere.'
Covid-19
With that proposition in mind, the young entrepreneurs set to work. The sensor they built looks like a flying saucer and is capable of measuring all kinds of things in an indoor space: from CO2 to perceived temperature, particulate matter and aerosols. This sensor is connected to analysis software and building management systems.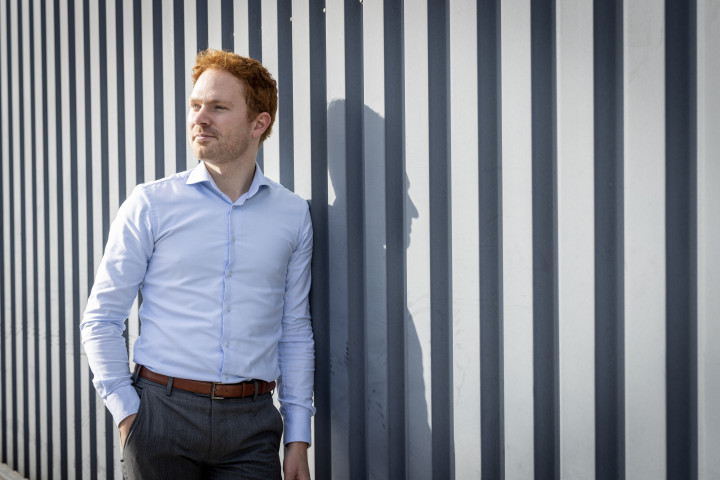 And then, suddenly, there was the Covid-19 crisis. 'Because of the coronavirus, awareness of the problem's magnitude grew enormously. Soon, air quality was at the top of potential customers' lists and they started to flock towards Clairify. Maybe not for the reason why we had started the company, but it certainly gave us a boost.'
For instance, CBRE, the world's largest real estate consultancy, approached Clairify for a pilot project. A'DAM Toren, Doctors Without Borders and the University of Amsterdam are also amongst Clairify's clients, and earlier this year, investors OostNL and Rockstart provided a financial boost. The company grew from three founders to a team of nine employees, with a head office and manufacturing environment in Enschede and a sales office in Amsterdam.
Saying no
So everything seems to be running smoothly. Still, Kamerman takes a critical look at the company's developments. 'We're no longer in the phase where it's just three guys with a good idea. If you want to continue growing, you won't survive on sympathy alone. You want customers to come to you for rational reasons, because you offer a proven product that brings added value. There are other – more commercial – laws that apply here. For us, 2022 was the year to learn how to add the most value to the market. That means developing an extremely solid and scalable value proposition, through which we want to achieve global impact.'
In doing so, the most important lesson is to make choices. 'The biggest danger is saying yes to everything. We prefer to do one thing incredibly well,' says the UT alumnus. For instance, the company made a conscious decision not to make a consumer product for a web shop; instead, Clairify is specifically focused on owners of office buildings. Kamerman explains why. 'In the past, there might have been a split incentive; why would a property owner be overly concerned about their tenants' employees zoning out? However, we believe the spirit of our times and the market are changing. Four walls and a ceiling are no longer good enough for tenants. Therefore, owners have to work on a future-proof property portfolio, and air quality plays an important role in this.'
Sagrada Família
Whether Clairify's approach bears fruit remains to be seen. 'Sales cycles in real estate are long. This makes validation difficult as well; we have to be patient.' But for Kamerman, that is what characterises entrepreneurship. 'It reminds me of the Sagrada Família in Barcelona, with all those cranes sticking out of the basilica. As a starting entrepreneur, you're also, in a sense, building while keeping your business running.'
Because even though Clairify is starting to look like a tremendous success story, Kamerman prefers to tell the honest story. 'It's very easy to think that everything is running like clockwork. An outsider sees the big picture, the upward trend. But what they don't see is the daily struggle and uncertainty. The fact that entrepreneurship is a leap of faith, with no guarantee of success. So you better make sure you enjoy the journey.'