GREEN TEAM TWENTE AT THE SEM
The Green Team Twente is a UT student team dedicated to building a fuel-efficient hydrogen car. Every year they compete in the Shell Eco Marathon (SEM), the biggest eco race in Europe. This year's edition of the competition will take place from the 5th until the 8th of July in London.
The team seems confident that their brand-new car Aurora One can once again bring them victory at the SEM and they are even shooting for the main prize at the Drivers' World Championship. But despite their general positivity, they admit that the preparations for the race haven't been exactly easy. We've met up with the Green Team to find out what it's really like to be on the student team and what type of bumps in the road can one stumble over...
Pressure on engineers
Building the hydrogen car has been a bit of a rollercoaster: fun, but with a few undeniable moments of panic and a rush towards the finish line. 'Stress levels are rising now and there has been a lot of pressure on our engineers,' says the team's Technical Manager Luc Djozin-Kemadjou. One of the mechanical engineers, Myron Middelhuis, agrees: 'Sometimes others don't seem to understand how hard it is to meet their deadlines. Deadlines keep popping up, but we have never done this before. We have no clue how long it will take us. There were several weeks we had to work 13 hours a day to make everything work.'
'For instance, we were told a week and a half beforehand that there would be a photoshoot and that we had to make the car completely drivable. The photographer didn't have time on another day, so we really needed to make this deadline,' adds another member of the technical team Gerben Bieleman. 'We had setbacks and had to work late nights. I was leaving here at 4 or 5 am on a few occasions. We made it work, but then… we took the car on the track, lifted it and the suspension broke off. When these things happen, it's hard to stay motivated.'
'Last few weeks have been a bit demotivating'
'Especially these last few weeks have been a bit demotivating. Now we are only working on small parts and can't see much progress,' says Middelhuis and his colleague Bieleman jumps in: 'Yeah, after some time it's just not impressive to see the car anymore. All that stands out are the small things that don't work.'
One of the issues the team needs to solve now is the car's gearbox. It has broken down twice, which means a (very) quick redesign might be necessary. Hence the advertised pressure on engineers.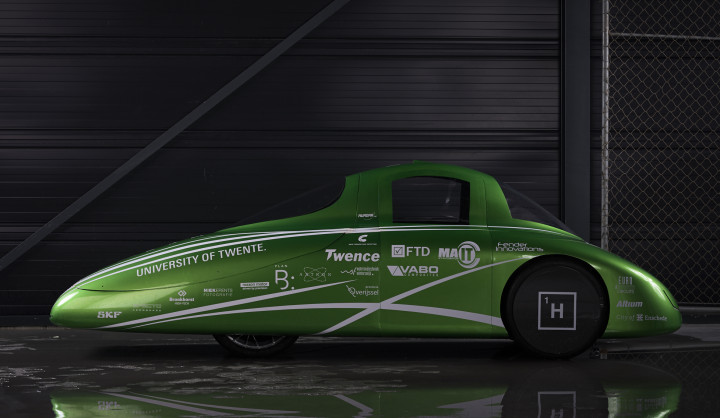 The team's car Aurora One
Budget
It's not just the technical problems the team members need to deal with. Getting money and sticking to budget isn't always smooth sailing either. 'Finding sponsors was difficult. Many companies we approached weren't that enthusiastic,' mentions Erik van Rhenen from the Electrical Engineering subteam. Once enough funding was found, the students tried to stick to the budget, but some mistakes were made. 'For example, we accidentally bought an aircraft-grade adhesive, while we only needed a much cheaper one. That cost us about ten times more than necessary and we couldn't return it.'
Could such issues be avoided, perhaps with more guidance from teachers or experienced students? Possibly, but the Green Team is all about learning from your mistakes. As the PR officer of the team Karolina Vaschenko says: 'We received a lot of support from team members from previous years, as well as the UT marketing and communications department. In general, we try to keep the involvement of supporting parties low. In the end, Green Team Twente is a self-learning environment and we enjoy learning from our own experience.'
No spare time, but it's worth it
Being on the Green Team also poses challenges on a more personal level. 'Nobody really understands what you're doing,' says Bieleman. 'Not even your friends and family get exactly what you do, why you are dedicating so much time to it. You have less time for social activities. After joining the team, I actually realized what a lazy student I used to be.'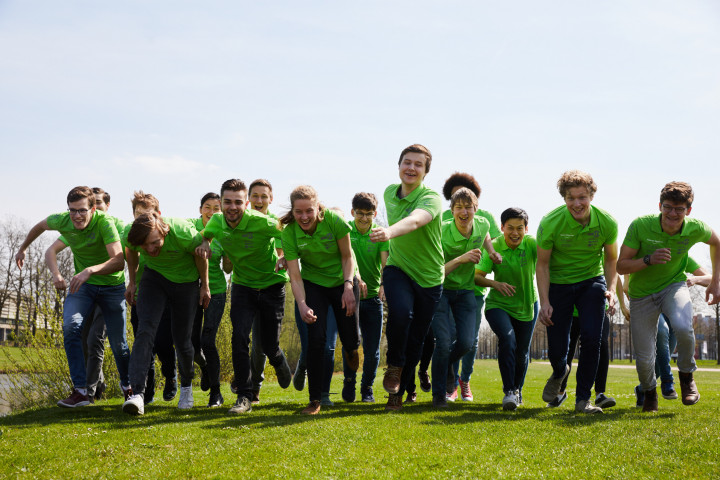 Erik van Rhenen adds: 'Green Team definitely takes a lot of your spare time. It's more pressure than studying, but it's also much better than studying. In the end you learn so much, stuff that you wouldn't learn in a classroom. It's definitely worth it.'
'It is stressful, but it also gives you the ability to survive a lot of stress'
'I would certainly do it all over again,' says Luc Djozin-Kemadjou. 'It is stressful, but it also gives you the ability to survive a lot of stress. It broadens your view and takes away misconceptions about other disciplines. No other job will give you this experience. It sort of supercharges your skills. We've had our setbacks, but no problem is too big for us. When we are at SEM, we will make sure people remember us.'