The first stops are the two drinking rooms in the Horst: Beneden Peil and Diepzat. At 16:00 still motivated, enthusiastic, and mostly sober students show up. Ironically enough, they  seem to be more on time than at lectures. Here the students can collect their first four stamps. Elfbierentocht participant Jelle Maas, a Computer Science student is excited: 'The Elfbierentocht is a great activity, where you see people that you haven't seen in years. The day after, you might not remember them at all.'
A new bar
Slightly intoxicated after four beers, the next bar visit is the TAP. It is located on the top floor of Carré and is the biggest drinking room. Here students receive their fifth beer. After a quick stop, the tour continues to the Technobar at the TechMed Centre. Being the newest bar on campus – which had to remain empty for the majority of the corona crisis – the bar is hosting the Elfbierentocht for the first time. The Technobar opened in 2019 and was visited by Dutch king Willem-Alexander back then.
Sprint
Coming closer to the end and only six beers underway, it is time to visit the last two drinking rooms: The Mbasement and the AbScInt. After drinking two beers at each room in the Zilverling, the last sparks of soberness of all participants disappear. Already fourth year participants Jantinus Wisman and Ramon Waninge, Applied Physics comment: 'It is unanimously a humongous, great success every year'. Electrical Engineering student and AbScInt bartender, Julia Kaptein, complains: 'I know people are trying, but they should drink more.'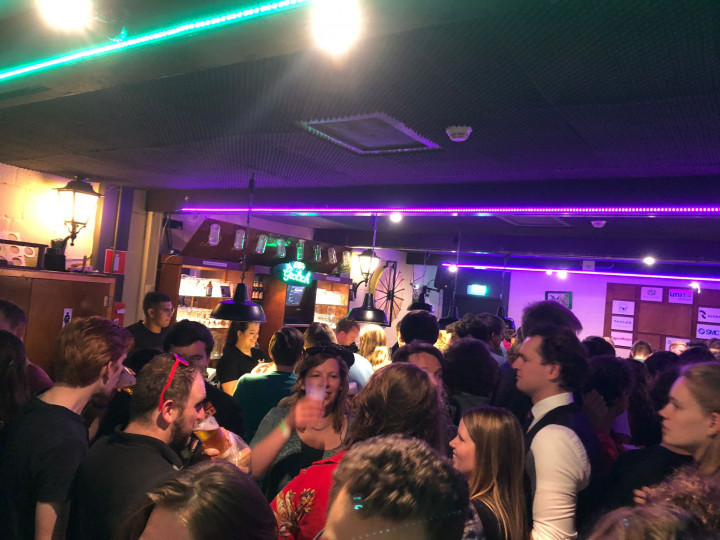 Final stops
The last beer before receiving the silver medal that honors the participants' achievements, is to be received at the Vestingbar. De Gevreesde Koe, the Vestingbar crew, makes it possible for the participants to collect their last stamp before enjoying some well-deserved food outside.
The eleven beers turn almost everyone who started off as a presentable student into a tumbling fries-eater. Electrical Engineering student Sjoerd van den Belt summarizes what makes the Elfbierentocht unique. 'It is the representation of what the UT represents. A diverse yet tight-knit community of students who are eager to mingle. Organized by true entrepreneurs!'