At the end of every summer semester, first year students of Creative Technology show their final work that they've created within the Have Fun & Play! project course. This year was no exception. Today the Smart XP lab hosted the student teams' interactive installations, all of which had a chance to secure a place at the GOGBOT multimedia art festival taking place in September in Enschede. And for the very first time, displaying at the festival will also mean a chance to win a thousand euros.  
'Surprising, out of the box and daring'
The theme of this year's GOGBOT and the CreaTe exhibition is Intergalactic. 'We wanted the students to explore what we do and can do with space,' says Marie Janin from the GOGBOT organizing committee. 'There are plans allowing regular people, not only space agencies, to land on the Moon. If that is possible, what are the rules for our presence in space? We wanted to see how can art and technology help us understand all this.'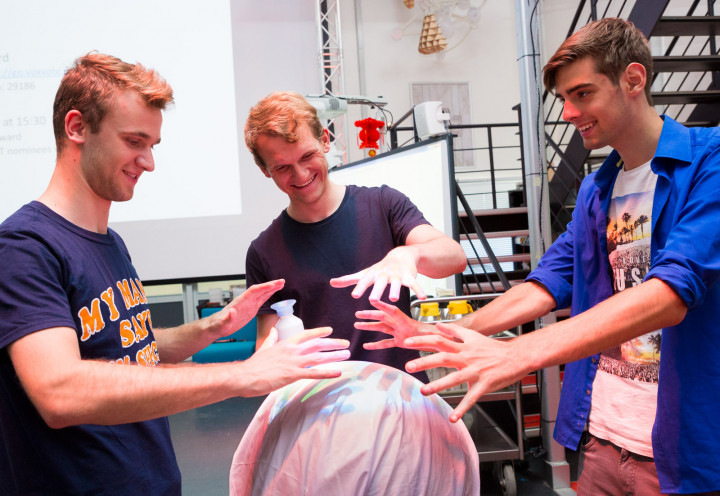 The UT students were therefore tasked to come up with interactive installations that fit the 'intergalactic' theme and also have an artistic aspect. Did they succeed? 'Absolutely. The installations presented here today are surprising, out of the box and daring,' thinks Marielle Stoelinga, who leads the course Have Fun & Play!.
Bus Lightyear
'It's enormous. The level of creativity presented here is crazy. It's amazing how the students managed to exploit the theme,' agrees Victor van der Chijs. 'This is my favorite day of the year. It's always great fun to be here. I only regret I didn't take my kids here, they would have loved it,' he adds as he steps out of the installation titled Bus Lightyear, which simulates a space travel experience and presents the possible future of transport.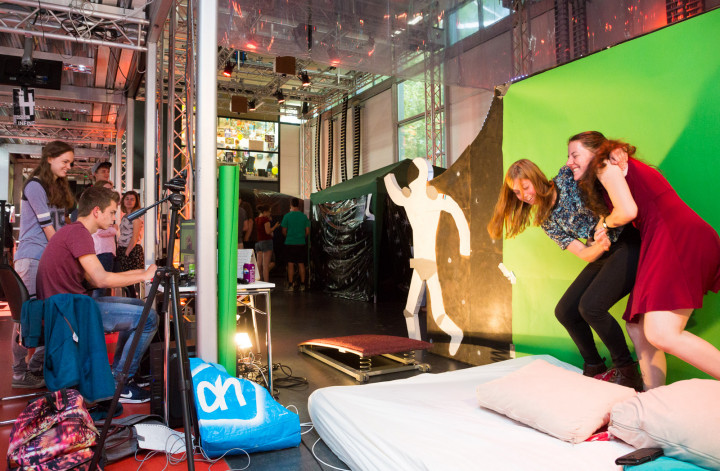 Bus Lightyear is only one of the eleven projects that were presented in the Zilverling today. Some of the others were, for instance, installations Shooting Stars, which makes a video of the jumping users and makes them look like they are floating through space, or an installation Starstruck that allows you to lie under a starry sky and interact with the stars above you, steering your universe.
Go to GOGBOT, win €1000
As usual, all displayed projects had a chance to qualify for GOGBOT, multimedia art festival. However, this time, there is a little twist. 'We come here to find international talents, which we've been discovering here since 2009. This is the hotspot for talents in the field of creative technology,' says Kees de Groot, creative director of GOGBOT.
And did he see something that definitely should be at the festival? 'Absolutely! They do a great job every year,' answers De Groot. 'I think the majority of installations will be nominated for GOGBOT, which will start on the 7th of September. This year, though, for the very first time, the best student team presented at the festival will win 1000 euros.'