Akbari might disagree with being called a 'fighter'. After all, she is no longer actively involved in activism, she says. Her story reveals something different, though. Even after growing up in a country where women's rights are not a given, and being interrogated by the Iranian government for a year due to her journalistic work, Azadeh Akbari has never stopped speaking out against unjust laws in her home country. Not to mention that her scientific research and outreach activities could be considered activism in itself. 'When you are constantly oppressed in all aspects of your life, when you live in a hostile environment where the patriarchy rules over you, promoting women's rights is not an interest – it's a survival strategy,' she says.
This desire to change the order of things has always been there. 'I grew up in a family with women who were very strong and intelligent, and at the same time had to fight for their basic rights,' says the UT scientist. 'I watched my mother fight for her right to work, because my father could forbid it. I watched my educated aunts struggle to work and fight for opportunities. I listened to their stories from a workplace where it was very common to experience sexual harassment. I had to fight for things that are very ordinary. Like my apartment. After graduating high school, I really wanted to live on my own and work, but that was completely unheard of for a young woman. I had to fight hard to make it happen.'
Authoritarian surveillance
Before starting her career in academia, Akbari worked as a journalist in Iran for many years. Working for local and international publications, including The New York Times, she focused on women rights, children rights and crisis management in Iran. Topics not particularly favored by the Iranian government. 'I was interrogated by Iranian intelligence for about a year in 2008 after they had revoked my license.' A hard blow at the time, but one that eventually led her to science and to the University of Twente. 'I started working as Media Officer for UNICEF. After years of activism and communication work, I went on to get a Master's degree in Gender Research at London School of Economics and Political Sciences in 2010. After that I obtained my PhD in human geography from the University of Heidelberg.'
It was her PhD research that launched Akbari into international media spotlight and landed her the UT Media Award this year. 'My research started with a tweet,' explains the Assistant Professor. 'It was a picture of a long line of people waiting on a street in Iran. The tweet said 'This is not a queue for bread or milk. This is a queue to pay a fine for not wearing hijab while driving'. I immediately thought: but how do they know? How do they know who is wearing hijab in a car? Are they using traffic cameras and facial recognition? Suddenly it all clicked.'
'I'm sad that I was right in my predictions'
When she proposed her PhD topic, 'people didn't want to believe that it was possible', says Akbari. 'They didn't want to believe that the Iranian government could use artificial intelligence (AI) and CCTV cameras to identify political opposition. But they can.' This was covered in her doctoral thesis – written before the current revelations about the extent of use of surveillance technologies. 'I thought back to my interrogations and tapping of my mobile phone at the time and I started thinking of where and how the Iranian government used AI, machine learning and other surveillance technologies. This is all tied to national intelligence, and so there is no openly available data. Because of that, I couldn't present any hard evidence in my thesis, but – based on publicly known outcomes – it was safe to claim that the Iranian government is using facial recognition to identify people on the street. It took around five years until officials revealed the righteousness of my claims. In 2015, when the Iranian government started rolling out the national ID cards with biometric data such as photos and finger prints, I and many other experts warned about the surveillance potential of these systems. In September 2022, when a woman was arrested after protesting against compulsory hijab on a bus, I finally could prove that the CCTV footage is matched with the national ID databases to arrest people. That analysis immediately made it into international headlines.'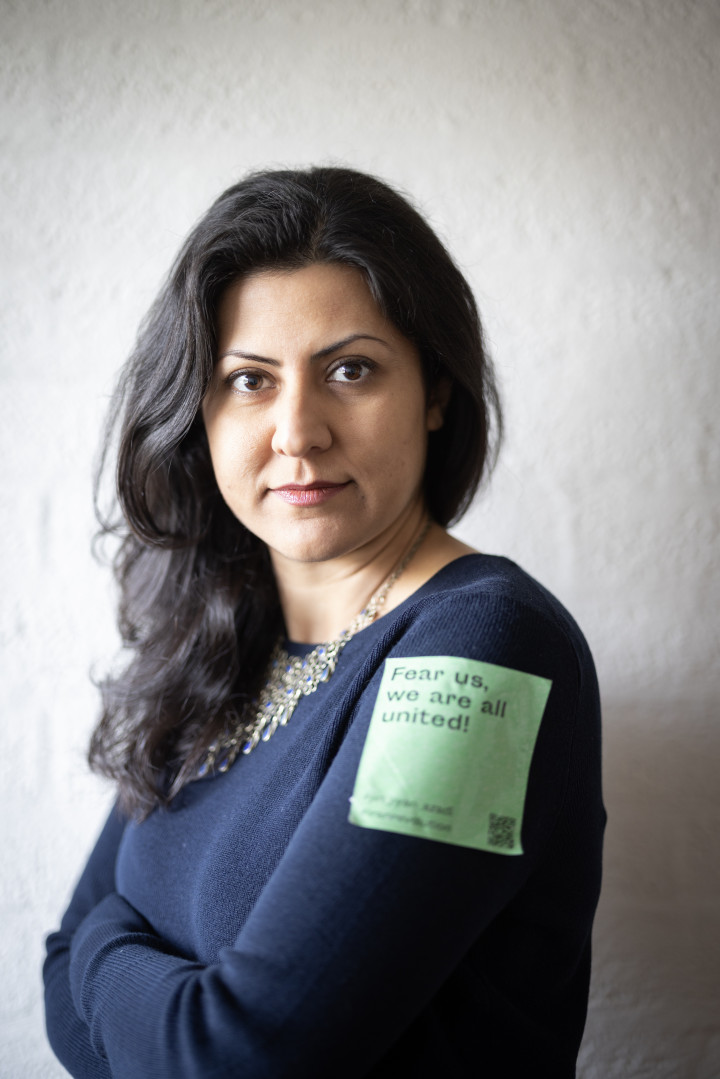 Free internet
If this wasn't dystopian enough, Akbari's research also suggests that these surveillance technologies are coupled with the government's effort to build Iranian national internet, a local internet completely separate from the global free internet. 'A lot of effort and expertise has been put into building this national internet which cuts people off from the rest of the world,' says the scientist. 'This is dangerous not only for people in Iran. There are more countries with totalitarian governments in the world. If one country succeeds in building its own internet, it can change everything. Our future is digital and it's important that everyone is connected to the free internet.'  
In other words: An internet shutdown may not seem like an act of violence, but when bullets are fired at protesters and nobody is able to document it, brutality is able to flourish, as Azadeh Akbari wrote in her op-ed published in the Guardian last year, just days after massive demonstrations flooded the streets of Iran. 'I'm sad that I was right in my predictions. As a researcher, you might see the signs but you hope that someone in power would also notice. I hoped that international organizations would do something but it took too long for them to listen to the warnings.'
Bittersweet
The developments in her home country and the attention she received thanks to her research made Akbari's first year in Twente a time of contrasts. 'After the Guardian piece was published, I went from one interview to the next. The days felt endless. Last months have been very stressful, but being in Twente has been very nice. I've only been here for less than a year, but I've received a lot of support from colleagues and management at the UT. It has been very heart-warming. In January, I also received the UT Media Award, which was a bittersweet moment for me. When the prize was being awarded, many young men in Iran were being executed. It was hard to feel happy at a time of such tragedy. On the other hand, it was very nice to see that the UT recognizes your efforts beyond academic research. I didn't expect to feel so grateful for it. The support from the UT has been very valuable for me.'
In her position as Assistant Professor in Public Administration & Digital Transformation, Akbari is now starting a research project focused on authoritarian smart cities. She aims to study how surveillance technologies are integrated in smart city infrastructures and what this could be for the future of democracy.
'It's a fine line between being an objective academic and an individual fighting for your values of freedom and democracy'  
Next to her research, Akbari tries to spread awareness about the use of surveillance technologies by totalitarian governments. She attends panels and public events, as well as policy making meetings. 'I'm really happy about that. That is a level of impact that I didn't have before,' she says. 'The possibility to directly influence policy making is very valuable. I'm also consulting the European Center for Not-for-Profit Law, a Netherlands-based NGO, to improve their guide for monitoring digitally-mediated assemblies in cooperation with the UN Special Rapporteur for Freedom of Assembly, which gives me the opportunity to translate my research to policy on a really high level.'
Fine line
Azadeh Akbari is certainly not afraid to speak up, despite the severity of the topic she's dedicated her career to. 'I'm not concerned for my safety but of course my choices have an impact on me,' she answers the question whether she's ever worried about the possible consequences. 'It's very clear to me that I can't go back to my home country. But when it comes to my safety, I've received so many threats by now that I know how to handle them. As soon as you become vocal, you start receiving phishing emails, people try to hack your accounts, you receive hateful messages. I've also gotten questioned by Iranian government's representatives when I was on international panels, for example. They publicly question your credibility, they challenge you and your expertise at international events for everyone to see. It's a fine line between being an objective academic and an individual fighting for your values of freedom and democracy. It is a very fine line to walk.'
Would she have rather stayed in Iran? Would she have done her life differently? 'No, I have no regrets,' says the UT scientist. 'I don't have a home as such, but I feel like a global citizen. And I think this was always in me. Even if the situation in Iran was completely different, I'd probably still want to leave and travel. I've always wanted to see the world. It is not a comfortable choice for many, but I have enjoyed the journey. There is a poem that I think explains the life of many people like me really well:
"So, here you are
too foreign for home
too foreign for here.
Never enough for both."
― Ijeoma Umebinyuo, Questions for Ada
In the end, I have become my own home.'