Vishnu Nandan
Vishnu Nandan obtained his Master degree in Geoinformation Science and Earth Observation at the University of Twente in 2012. As an expert on radar remote sensing of Arctic and Antarctic sea ice, he has been part of the MOSAiC expedition, the largest polar expedition ever attempted. It is the first year-round expedition into the central Arctic Ocean. Due to the harsh working conditions, the experts on board exchange in phases – so called 'legs'. Nandan was part of the Leg 2. He embarked on his journey in November 2019 and returned home last week.
How was it? Are you all safe and sound?
Nandan: 'It was definitely eventful. I'm now safe at home in Canada, but it has been quite a challenge. The original plan was for me to return home on the 10th of March, but I didn't make it here until April. The trip there went well. Polarstern, the research icebreaker, was drifting through the Arctic together with the sea ice. Surprisingly, though, the ship drifted too close to the North Pole – only 156 km south of it. Because of that, the next leg couldn't reach us on time. They had three weeks delay. When they finally got to us with a Russian icebreaker, it was almost out of fuel. We had to wait for another icebreaker to refuel us. That took a while, because they had to refuel 1200 tons of diesel. After that, we had to wait yet another week for a storm to pass.'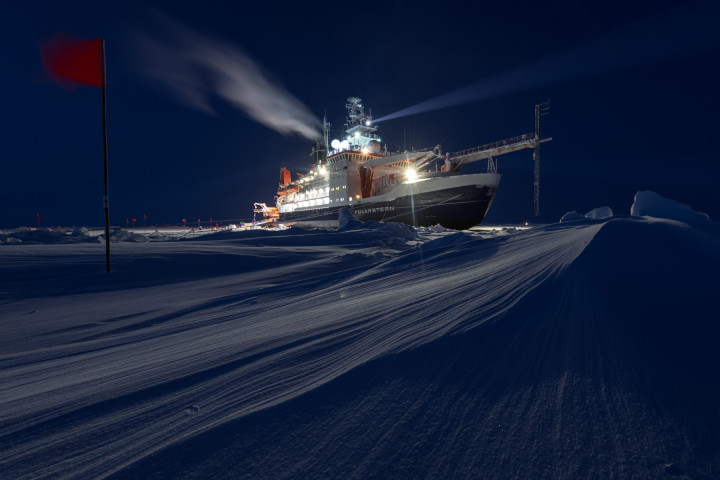 Research icebreaker Polarstern. Photo by: Steffen Graupner
Did the corona crisis impact your voyage back? Did you even know about the coronavirus?
'At the time, we didn't know that much about the coronavirus, but soon we realized it was serious. All Schengen borders were closed and we weren't sure where we could dock. The plan was to dock in Tromsø in Norway, but at first they didn't want to accept us. We were in total isolation for four months, but unfortunately the Russian crew did come onboard, which technically broke our quarantine. Eventually we received a special permission to dock in Tromsø, but we weren't allowed to go on land and we had to wait on the ship. Special buses were arranged, they transported us to the Tromsø airport, and a special charter flight took us to Bremen in Germany. The German police escorted us out of Bremen airport. We were taken to a hostel, where we had to get checked by a doctor and where we were supposed to stay that night, compulsorily. However, my flight to Canada was the next day, so I escaped the hostel, drove from Bremen to Hamburg and flew home back to Canada. I knew I would have to self-isolate in Canada anyway and I badly wanted to get home.'
How was the expedition overall and what were some of the most memorable moments?
'The whole expedition was very challenging and exciting. I witnessed things I could have never imagined. We spent 127 days there. From the first day we were experiencing polar nights: constant darkness. Living in darkness gave a different flavor to my life. It became a part of me. They say you need daylight to stay healthy and energized. That is true, your energy levels are very low, but the darkness shows a different side of life. The starry skies, the full moon, some nights the planet Venus paid us a visit. We even saw the nautical, astronomical and civil twilights. It was so cool! The temperatures were insane. With wind chill, they reached down to -56°C. I got a few frostbites on my face many times. You can see that on my nose and chin. It was a bit painful, but we had a doctor on board who took care of us. There was one night when a polar bear came and played with our instruments. Nobody saw him, but it was captured by a camera that was on our remote sensing site.'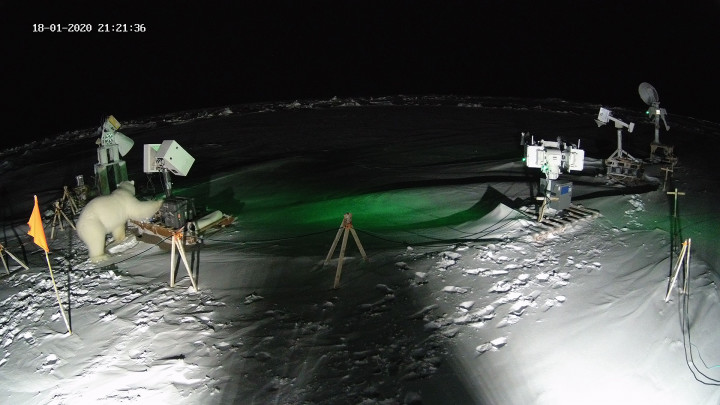 The automatic camera at MOSAiC Remote Sensing Site captured the Polar Bear visit. Alfred-Wegener-Institut / Remote Sensing Camera (CC-BY 4.0)
'Living in darkness gave a different flavor to my life'
'We had some scientific and technical challenges as well. Some of our instruments didn't work properly. We had to tow them using snow scooters from the ice to the ship many times to troubleshoot, repair and refurbish. When you have to handle tiny metallic nuts, bolts and screws at insanely cold temperatures, it screws up your brain. Eventually, we managed to get all the instruments operational and successfully handed over to the Leg 3 team. But now the second part of this story… Our Leg was lucky. The ice was stable. But after we left, the Leg 3 team had to face some real music. The ice broke and the ice cracked right underneath the Polarstern. They had to use a helicopter to save our instruments from getting crushed and falling into the ocean. You can't beat Mother Nature. She is very cold.'
Can you describe the daily routine during the expedition?
'For the daily routine on the ship, we followed the Moscow time zone. There was of course always breakfast with freshly baked bread, but one of the challenges with living in darkness without sunlight is that you are always tired, so I never woke up in time for breakfast. Almost every day, we would go out on the ice at 9 am, then return for lunch at 1130 am, then back on the ice at 1 pm and back for dinner at 5:30pm. That was our daily work routine. I love cooking and the chef was kind enough to let me cook twice for the whole crew. So I made vegetable biryani, chicken tandoori, tofu saag (spinach) and baked fish for a hundred people. Every day, after dinner, there was a daily general meeting, where we summarized the day's work, planned for the next day and showed the best pictures of the day. We all enjoyed that.'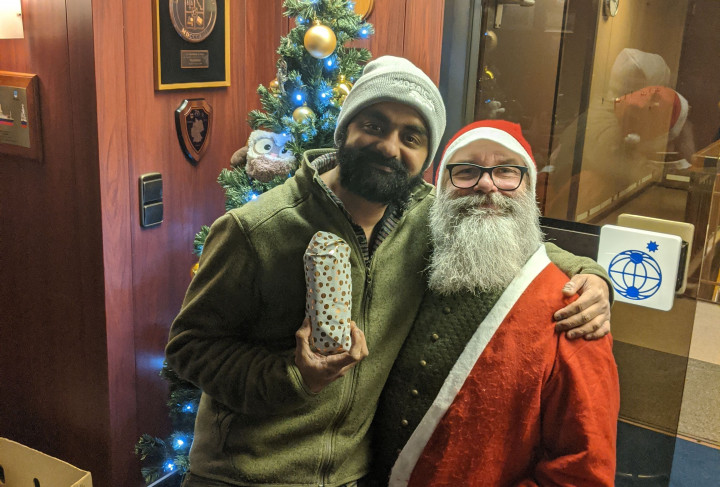 'Evenings were free. We had movie nights, some people played board games, some got drunk. We had bar nights three times a week. You'd just do whatever you could to keep occupied and happy. We celebrated the northernmost Christmas, New Year, St. Patrick's Day, Mid-Leg Party, End of Leg Party, and many more. We celebrated even my birthday on March 29th. My northernmost birthday. There was also a sauna, swimming pool and a gym on board, but I didn't use them. Transporting the instruments, and working on the ice all the time was my workout. I lost like ten kilograms over there.'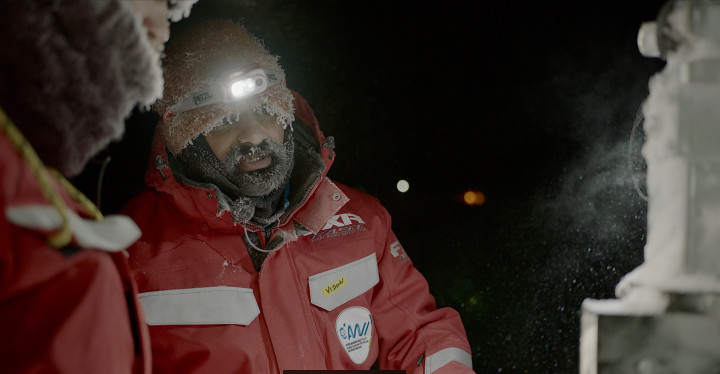 Vishnu Nandan with a colleague. Photo by: Lars Barthel
During our first interview, you said you expected this to be 'the most challenging expedition ever'. Was it as you predicted?
'The most stressful time for us was towards the end of the leg. There was no proper communication from land, on our return voyage and we were very worried. We worried about how we would get home, how to get enough fuel, and where we could dock due to the coronavirus. It was my wife who told me in detail about corona. We had WhatsApp facility on the ship once in a while and she updated me regularly on the status of the disease. Later, we were told that a lot of people were dying. One morning, we heard that Canada had closed all their borders. So yeah: the month of March was the worst for us. We kept getting conflicting reports, some media even wrote that there was coronavirus onboard. This was a rumor. There was a lot of miscommunication.'
'It was the most challenging expedition ever'
'It certainly was the most challenging expedition ever, but looking back I would still participate. But, I would want to know concrete and safe backup plans and clear cut transparent communication from the organizers. Overall, my experience was awesome. We formed great friendships on the ship. When you are isolated with other people, you can start hating each other, but that didn't happen. We went through the whole experience as a family. We supported each other – emotionally and scientifically.'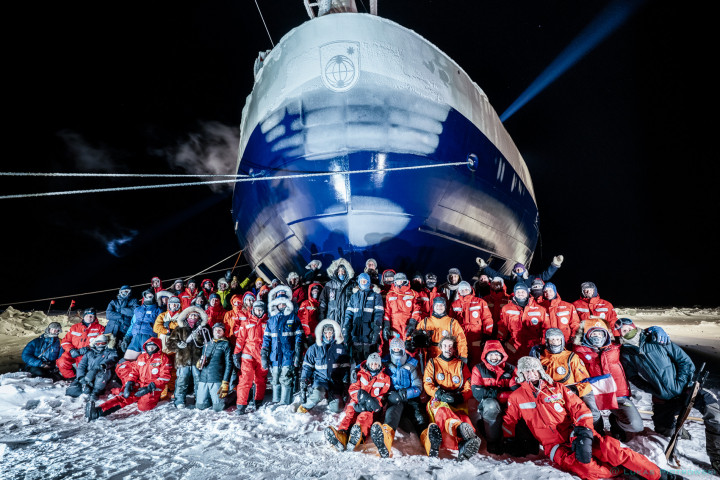 Leg 2 team. Photo by: Alfred-Wegener-Institut / Lukas Piotrowski
What was it like to return to a world in the middle of the corona crisis?
'It was of course strange to come back to a completely different world, but I see both negative and positive sides of the corona crisis. When I left, everything was normal. Now nothing is normal. On the other hand, when I came back there was no traffic, no rush. Oil price went down, there is substantially less air pollution. Of course I feel bad and sad for people who are struggling now, especially for people who are stuck somewhere and can't get home. In the end, though, hard times will pass.'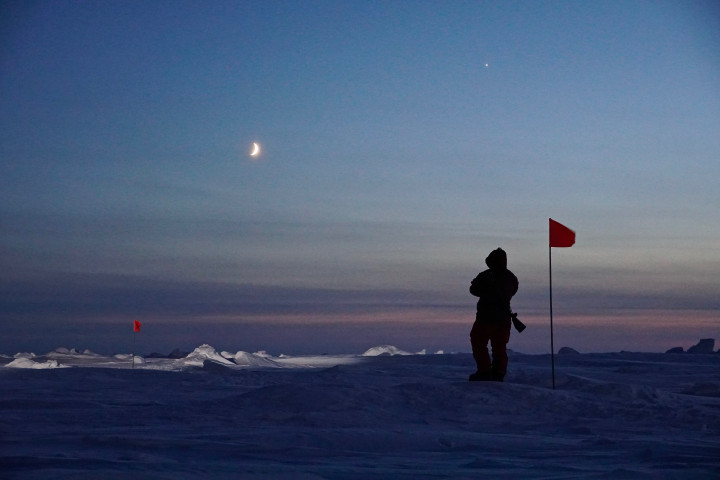 Photo by Julienne Stroeve