PIRATE (Pipe Inspection Robot Project) started already ten years ago, but this week it is officially entering a new stage. 'We are starting a new phase with a new face,' smiles Johan Engelen, who is the brand-new project leader. 'I have only just begun working at the UT, so I have not yet contributed to the project, but a lot of great work has been done. The robot works well in the lab settings. Our goal now is to make it more robust and ensure it can work in real life situations.'
Very flexible robot
In other words, the researchers are moving closer to commercialization of the robot, which should eventually be able to autonomously inspect various types of piping. 'While the original focus of the project was gas pipes, we are currently concentrating on petrochemical pipelines. That is very different, because the robot then needs to function submerged in liquid, as well as in gas or other networks,' says Engelen.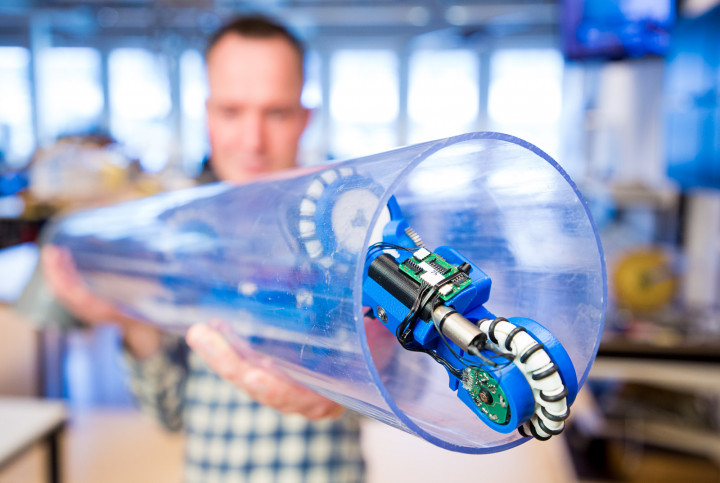 As Johan Engelen explains, the mechanics of the 'snake' robot already work very well thanks to its smart design. 'What makes this robot unique is its flexibility. It can fully adapt to the environment – it has wheels on the top and on the bottom part, so it can drive as well as clamp itself to the wall of the pipe. That means it can even go vertically. It is also equipped with cameras and a laser sensor. Thanks to all that, it can easily accommodate to the diameter of the pipe and fit into even small spaces or make sharp turns.'
Making the robot smarter
'The next step is to make the robot smarter – put brains in it, so to speak –, so it can autonomously navigate within the networks,' describes Engelen. 'Yet, it might be difficult for the robot to make decisions at certain moments. For example, it might not know if it really detected rust or not, and so it will function only semi-autonomously at first, which will allow operators to communicate with it.'
As the duration of the PIRATE project suggests, developing the robot has been no easy task. Engelen therefore doesn't expect the device to be working underground very soon. He does, however, hope to have a field-ready prototype within the next two and half years.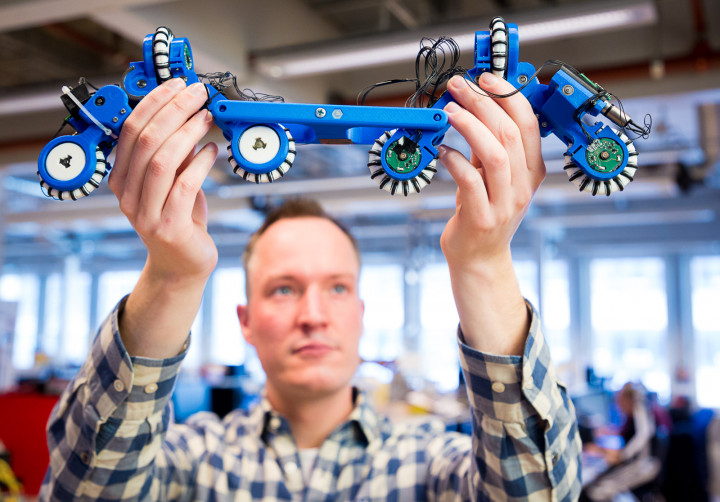 The prototype displayed on the photos was designed by Franck de Vries as a part of his Bachelor project.