Since the last time you heard from me, we (me and fellow UT students Hanna and Els with whom I came here and with whom I live here ) did not leave the city of Curitiba. But no worries, I would not write an entry if I considered these times boring. Our newly won home has so much to offer, and so does the Brazilian way of living. During the week the days are quite packed with university courses, language courses and up until now a lot of annoying organizational stuff, which still had to be done, and we are looking forward to every weekend!
Luckily we are living in one of the nicest areas to go out here in Curitiba. The area has amazing clubs, which could also exist exactly like those in New York or San Francisco. People here are very nice; nights are long and all that for comparably low prices. For example, for a freshly mixed and great tasting Gin Tonic you pay around three euros. I think back home you would need to easily triple that price.
This past Friday we had the luck to see one of the biggest, national holidays here in Brazil. It is the 'Dia da ipendência do Brasil', the celebration of independence of Brazil from Portugal on the 7th of September 1822. For us as Europeans it is weird to see a military parade. But somehow I really liked it. The first part was a civic parade with different kinds of schools and all different kinds of clubs (from motorbike clubs to karate clubs), that were presenting themselves to the public. The second part was the 'real' military parade, including tanks!
It was an experience to see but I am definitely happy that the military in Europe is not that present. It is still an uncomfortable feeling to see machinery on the streets, which only purpose it is to be used during war times. We then decided to spend the rest of the day with some cold cervejas (beers) in one of the many beautiful parks of Curitiba.
There is one thing, which everybody associates with Brazil and I really wanted to see it since the beginning: football!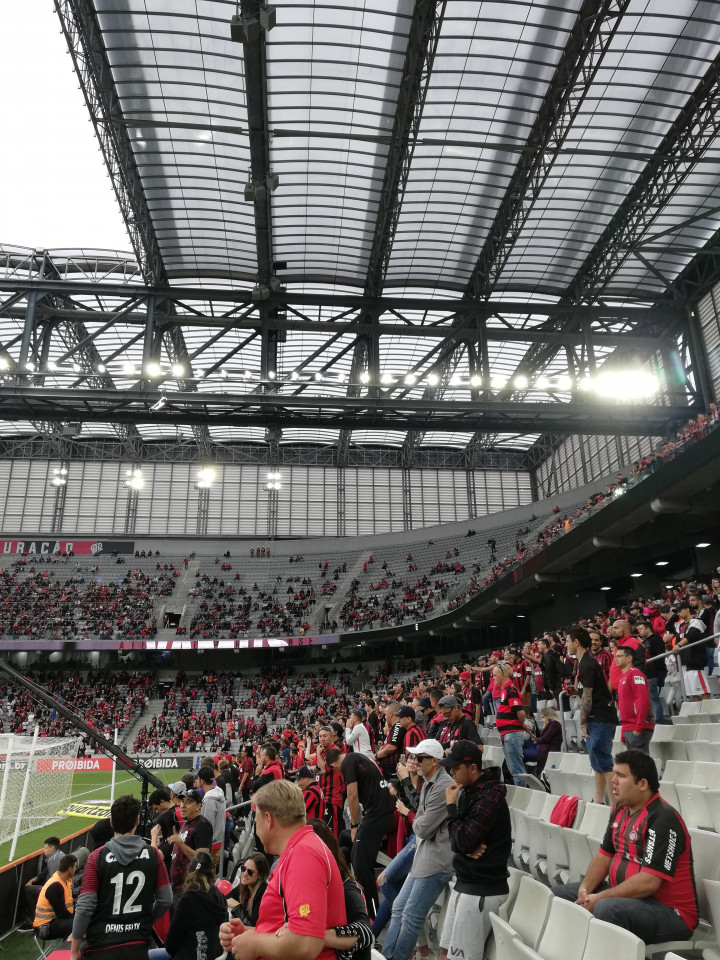 Here in Curitiba we have three big football clubs (one in the second Brazilian league and two in the first one). We decided to go to 'Clube Atlético Paranaese', which I am of course now a supporter of. Sometimes it is that easy. They were playing against 'Fluminese' from Rio de Janeiro, and I can tell you that it was a great match! Not only that football here is way faster and way more physical than back home, also the fans seem to be even more emotional than in Europe. I never heard so many swearwords and never saw so many middle fingers towards the referee and the opposing team. The weird thing was, these people seemed to be very nice before and after the game. Maybe it is their way of leaving the daily life behind and get rid of all the stress of the week, who knows?
Luckily Atlético won their first game with us as their new supporters: 3-1. It definitely was not the last time that we will support 'o Furação' (the Hurricane), as the club is called by its supporters.
I hope you like it to stay up to date, you will soon hear from me again.
Enjoy the last bit of summer. Soon, summer will arrive here!
Lennart