Are you married, single, in love?
'I'm married. Our wedding was quite an affair – we had three months full of wedding traditions. I come from a village in Germany, right across the border, where we still follow old wedding traditions. Your closest neighbors are very involved. They actually need to invite all the guests personally. The neighbor goes from door to door on a bike, wearing a special hat and reciting a special text. Later on, the wedding couple joins in, so it kept us quite busy. This custom has roots in the time when there were no written invitations and it means that you are usually much more involved in the wedding of your neighbor than your own family.'
Do you still live in the village?
'Yes, now I'm back in my home town. I lived abroad a couple of times. It's nice how being in a foreign country makes you reflect on your own culture. With all these times abroad and new encounters, I have remained a village child, who likes being outside and enjoys the social setting of a small town.'
Where did you live?
'I lived in Peru for one year and in Mexico for two years. I went to Peru to work in an orphanage when I was eighteen years old. I just wanted something different and be far away from home. It was very adventurous. At the time, when you were away, you were really away. There was no internet. It was a great experience, though. After I came back from Peru, I studied Latin American Science in Münster. I did research on Mexican history and that allowed me to work and live in Mexico. So this is my life. Combining passion for Latin America with German village traditions. And of course, now linking this to work for a European network of universities.'
How did you eventually end up in Twente?
'I had a great time in Mexico, but when I came back to Münster my job as a researcher mostly required reading a lot of documents. I liked it for a while, but it was a rather lonely work. I realized I didn't want to do that for the rest of my life. I missed talking to people. I really need to work with people. So when I came across the vacancy for my current job, I was really interested. It involves dealing with many different cultures and that suits me. I am challenged by reaching common grounds and agreements with people from different cultures and mentalities. But they all have the same aim of intensifying cross-European collaboration.'
When did you start working at the UT as the Secretary General of ECIU (European Consortium of Innovative Universities)?
'About six years ago. Many people think that I only work at the UT. In reality I coordinate the whole ECIU network. The UT is of course my home university, but I travel a lot. Every other week I'm away for a few days. I definitely enjoy it, even though many people ask me "Isn't it too much with two little kids?" It's completely normal for my kids and I still see them a lot. In fact, when my daughter was a baby and I was still breastfeeding, I used to bring her and my husband on my business trips. We managed and it was actually quite fun. I like to travel and, moreover, I think it's important to meet people at the various ECIU universities, let them see my face. It also gives you a great insight into how different universities work.' 
Do you also travel for pleasure?
'It's a bit more difficult now with the kids, but we used to do a lot of backpacking. We went to Latin America, Asia. We took an amazing trip to Tibet. I enjoy the freedom of backpacking. If you get somewhere and you really like the place, you can just decide "This is where I will be for a couple of days."'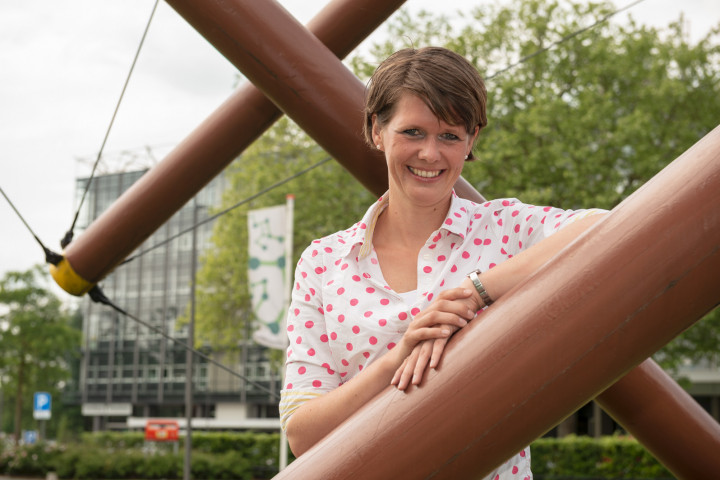 What other hobbies do you have?
'I like being outside, in the garden or jogging. And I like to be with people. I'm a very social person.'
Do you like to read?
'I'm still not finished with my research into Mexican history, so if I have time I still read books and documents related to my research. I'm looking into the connection between Mexican national building process.'
I assume most of these documents are in Spanish. You speak quite a few languages, don't you?
'I speak Spanish, English and German, of course. Also a bit of Portuguese and French. I studied Latin and Ancient Greek at school. If it comes to Dutch, I understand everything but I haven't started speaking it yet. I need to push through that bottleneck, maybe take some sort of a crash course. When I arrived to Peru, I didn't speak a word of Spanish, but it went very quickly. I was working with kids and they correct you. Or they laugh at you if you say something wrong. I needed to learn fast, because I had no other way to communicate. It's extremely hard for me if I can't talk to people.'