Overijssel PhD Award
The annual prize is awarded for a doctoral thesis of outstanding academic quality. Any UT faculty or research institute can nominate a single doctoral thesis. The award is sponsored by the Province of Overijssel and consists of €5,000 and a certificate. This year's award will officially be presented at the DIES Natalis (Foundation Day) in May 2022.
Sugandh Chauhan conducted her PhD research at the Faculty of Geo-Information Science and Earth Observation (ITC). She defended her doctoral thesis 'Remote Sensing of Crop Lodging. A Multi-Sensor Approach' in November 2020 and graduated cum laude.
What does it mean to you to win this award?
Chauhan: 'I'm extremely honored to receive this award. I didn't expect it at all. I couldn't believe it when they told me. It is like a cherry on top of my PhD degree.'
Do you already have plans on what to do with the prize money?
'I'm planning to get married next year, so I might use some of the money for the wedding. However, I'd also like to use it for my professional development and attend a personal development course.'
What was the topic of your PhD research?
'The domain I focused on in my research was agriculture and the role that remote sensing technology can play in improving its outcomes. More specifically, I focused on lodging of wheat crops. Lodging refers to bending over of the stems to the ground level, which makes them very difficult to harvest. Lodging can reduce production of grain crops by 50%, so it is a big problem. My goal was to use satellite data to detect this problem in real time and help farmers take actions.'
How did you get to this field of research?
'My background is in sustainable agriculture. I consider this sector to be the backbone of economy. A lot needs to be done to transform the farming industry. I felt that with remote sensing technology, I could help farmers make smarter farming decisions and realize the full potential of their efforts. Moreover, I come from India. I've seen people starving, I've seen people malnourished. The level of food security in India is very low and I wanted to do something about it.'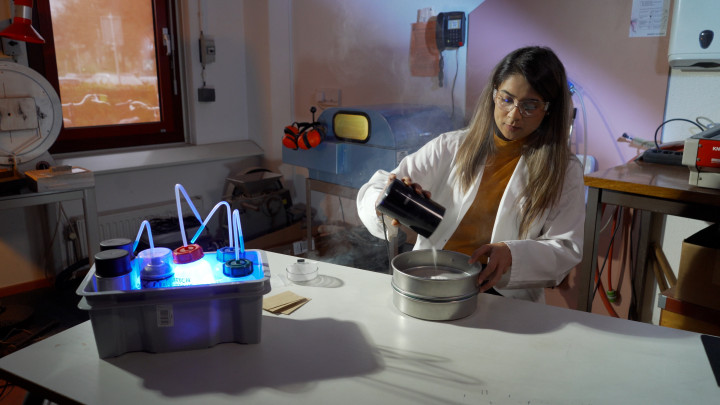 Can you summarize the main conclusions of your doctoral thesis?
'There was very little research done into lodging of crops before – I only found about 22 papers on the topic overall. I found out that it is possible to detect this problem from satellite images, even though lodging often occurs only in small heterogenous patches on the field. Not only that: we can also map the future risk of the problem. We could tell the farmers which part of the field is at high risk, so they could take necessary precautions and prevent it.'
You graduated at the UT in 2020. What do you do now?
'I work for a company Space4Good based in The Hague. It is a social enterprise that specializes in using remote sensing for different applications. Besides agricultural applications, I'm involved in detection of deforestation in tropical ecosystems and estimating biomass, both of which are important in the context of climate change. I really like what I do. I want my work to have a social and environmental impact.'