Solar Team Twente
Working on: Solar car to compete in Bridgestone World Solar Challenge in Australia, October 2021
'Nearly everything is done online'
Mark van Eijk (Marketing & Communication Manager): 'Team building is really difficult nowadays. That is one of our main concerns. Otherwise the car is right on schedule and it is going well. We haven't had any issues so far and we could go on with everything as planned. Nearly everything is done online. Part of the team, such as people focused on communication, are only working from home. People that need to be in the workshop or the office can come in, but need to wear facemasks at all times and we naturally try to limit the number of people in the building. Right now we are busy with a lot of work on the computer. Soon we will be building the mockup for testing, but that can be done with a small group. The production of the actual car will begin in March, so hopefully more things will be possible by then. If not, we will divide into two locations to build parts of the car and assemble it in May.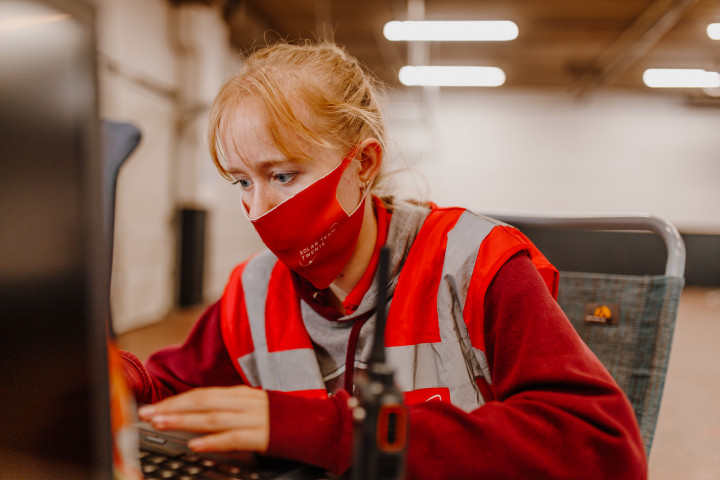 Photo by: Martina Ketelaar 
Keeping up the team spirit is the most difficult part of the lockdown. We have Teams meetings and we also ask people to give personal presentations online – to introduce themselves and to show what they are working on. We worked together as a whole team in September, when we also attended the Solar Challenge in Belgium. That was probably the biggest team building event we will have this year. We really hope that we can scale up some events, meet partners and naturally we really hope that we can go to Australia in October. The organization of the race really wants it to go on, but it all depends on the corona situation and international travel.'
DroneTeam Twente
Working on: Drone for humanitarian missions to compete in UAS Challenge in Wales, June 2021
'It takes a lot of effort to keep everyone motivated online'
Dick Dekker (Technical Manager): 'We only had one physical meeting with the whole team right after the summer. Then we moved everything online because we had to. People come by the office for physical tasks but most things are done online. It can be difficult to work digitally when you are trying to create something physical, but it is going well. It is just a totally different workflow. In physical meetings, many things come up naturally and get done, but online talks are much more efficient and to the point – they are focused on one specific issue, once that is discussed, the meeting is over. That makes it difficult to see what everyone is doing.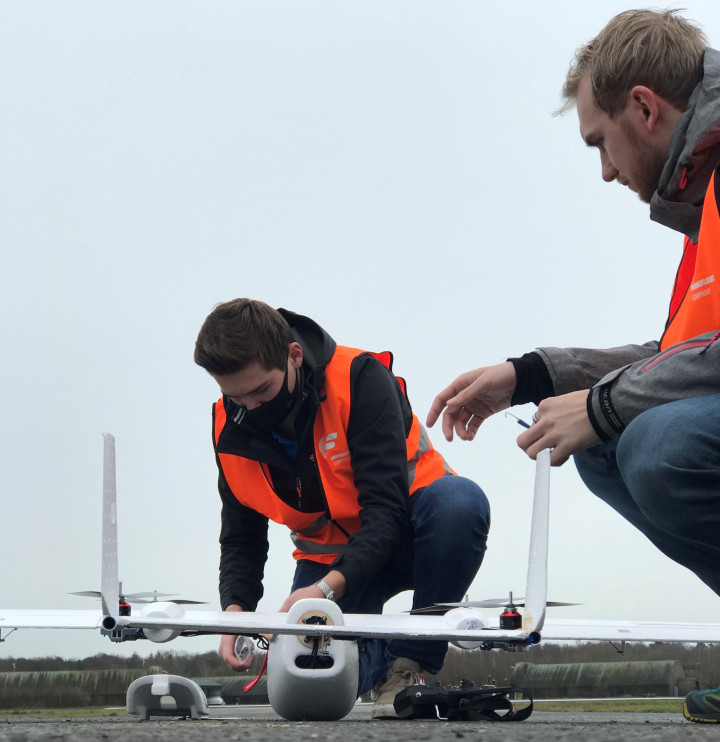 We are working on the design of the drone online. We divided parts of the design, everyone has their task and we have many online meetings. It takes a lot more effort and structure to make it work. We had some cases when people where working on the same task because they didn't know about each other. Miscommunication is the biggest issue we are dealing with. Otherwise it is going well. We just started 3D printing the parts to see if they need adjusting. Once the design is final, we will use two 3D printers in the office to print the drone. I've calculated that it should take two weeks of nonstop printing.
The team felt connected at the beginning. Everyone was motivated. But as time goes on, you start feeling distance between each other. It takes a lot of effort to keep everyone motivated online, to manage things in person is a lot more natural. Regardless, I believe we will be having a great year. It's inconvenient to work online, but it still really fun. I'm positive that we will meet our deadlines and will be able to compete in the UAS Challenge. If the competition doesn't go on, we already have a backup plan. We plan to get in touch with the Twente airport and set up the competition's mission there. Our goal is to build a drone to compete and we will.'
Solar Boat Twente
Working on: Solar boat to compete in Monaco Solar & Energy Boat Challenge, July 2021
'Our main goal is to be proud of the boat we build'
Tjeerdtje van Gastel (Team Manager): 'It is going quite alright with us. We work mostly from home. Sometimes we need access to the boat, but luckily we now have a new big office, and so it is possible to keep safe distance. This also allows people who cannot work from home to come here. Until now our work could be done primarily online. We were working on coding of the hydrofoils, for example, which naturally can be done from anywhere. The building and construction of the boat will need to be done physically, but many companies are helping us with that and we expect it to go alright. We are on track. We only need to resolve last few design issues. We were able to use the base of the boat from last year, because it didn't sail very much. This helped us in the process.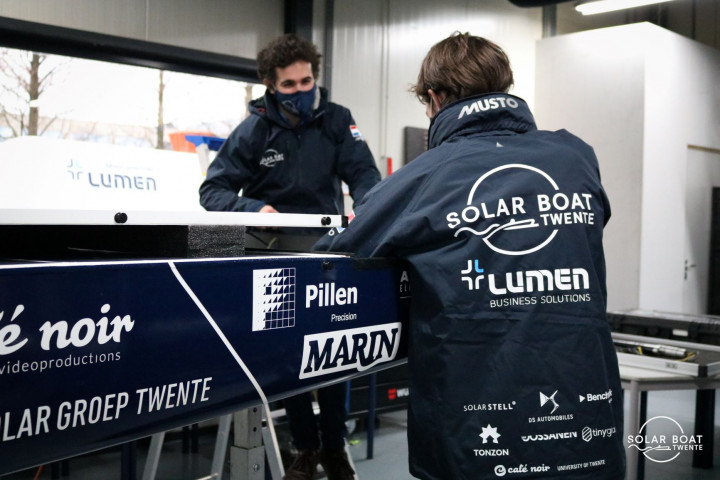 As a team we are doing fine. Team building activities are of course difficult to arrange these days. Yes, you can organize something online but we are online all day and people need some screen-free time in the evenings. But so far everyone seems motivated. The team spirit is still quite high, because the main races are still on the calendar. Possible challenge might come with the races, because we never really worked together physically all day and we are not used to that. This might be an issue but we don't know. Other than that we are not experiencing any practical problems. There are no delays so far, all materials arrived on time. Once the regulations allow, we expect we will be able to sail. We hope we can put the boat in the water in March, but we also don't expect we will be allowed to be there with eight people – which is needed in order to safely put the boat in the water. The assembly of the boat should be doable with a small group, but placing it in water is not. We need manpower for that.
We are careful if it comes to expectations for this year. Although we really hope we can race, our main goal is to be proud of the boat we build. Naturally we hope to sail at least once this year, whether that is in Monaco Solar & Energy Boat Challenge or in a race we organize ourselves.'
RoboTeam Twente
Working on: Soccer robots to compete in RoboCup (originally scheduled to take place in France in June 2021)  
'We are still able to do our jobs, but the communication is more difficult'
Koen Vonk (Public Relations): 'We are mostly working from home and we have a corona protocol set up for working in the office. If you'd like to come to the office, you need to register upfront so that we can ensure safe distance. The management and the mechanical team, which needs to physically build the robots, comes together more often, while others come once every two weeks or not at all. We respect everyone's choice. We are also an international team and some of our members travelled home and worked from there for some time.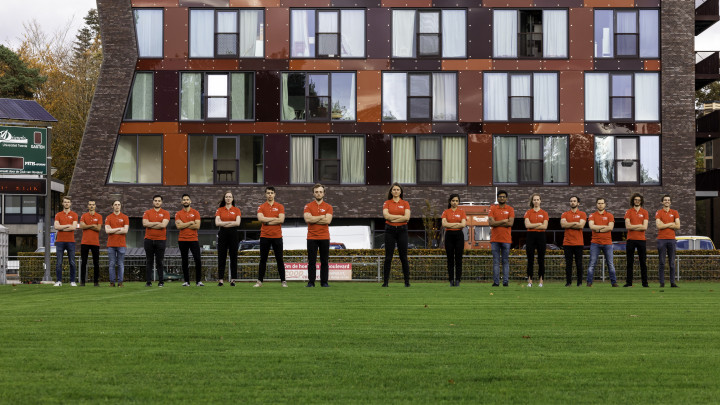 Team building is hard to do online. Online activities can be fun, but not as fun as meeting each other in person. Working online also makes it very difficult to manage the team and keep track of what everyone is doing. Building the robots is still on schedule. We are making great progress. We are still able to do our jobs, but the communication is more difficult. Otherwise we didn't have any major challenges and could do everything. Only finding new sponsors was harder, because many companies are having a hard time now due to the pandemic.
Sadly, we received an email that the RoboCup is most likely going to be cancelled this year. That is a pity. It was pretty hard for us, but now we are trying to forget about that and go on because it is still fun to be on the team. We are looking into organizing a training match with a team from Germany, but we need to wait and see what the regulations are and if it's safe. Our main goal for this year is to build working robots, come up with innovations and try to improve everything we already had.'  
Green Team Twente
Working on: hydrogen car to compete in the Shell Eco Marathon, May 2021
'It can be emotionally challenging'
Anna Bruijning (Communication Manager): 'We are still on schedule. Most parts are being produced on time and we have a car that works. We are also really lucky, because all our partners are still on board and helping us. Right now we are in the process of finishing the car. We were able to use the outer body from last year and we are making improvements to the electronics and other parts. Luckily we can run a lot of simulations from home. We expect to have the car completely finished in March. Test drives should be possible, because we only need one driver and a couple of people with laptops standing on the side. The car is three and half meters long, so it's easy to keep track of the distance. It is hard that we cannot physically work together with the whole team, though. We allow maximum five people in the workshop – and it is a very big workshop. Even then, people cannot work on the car exactly at the same time and need to wear facemasks.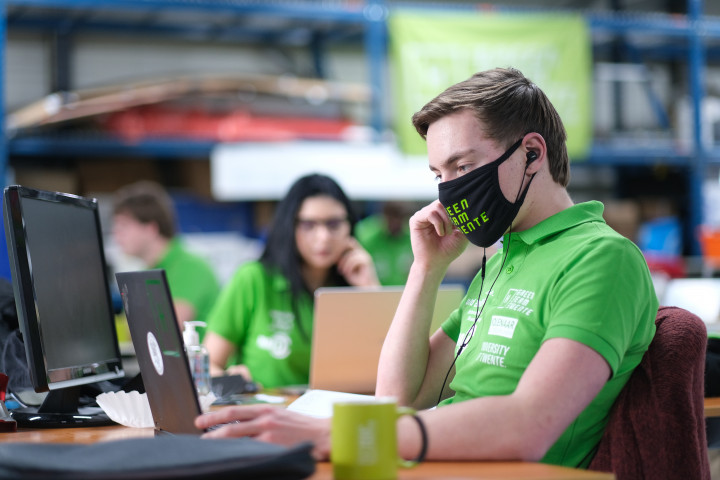 On paper everything is on track, but it can be emotionally challenging. It doesn't quite feel like a team. We don't know each other the way previous teams did. It can be hard. You plan an event, you are excited, but then the regulations change and you need to change everything last minute. That is not good for morale. Some people are thinking of quitting the team and we are trying to figure out how to make it more fun for everyone. We are working on a documentary about hydrogen and we are trying to set up an exhibit in a museum in Enschede. If it comes to the Shell Eco Marathon, we don't know for sure if the race will go on. We should find out this month. We keep hoping, but we also don't want to have too high hopes.'
Electric Superbike Twente
Working on: Electric motorcycle to compete in multiple races during the race season, starting in Finland in July 2021
'The only thing we can do is to finish the bike, the rest we cannot influence'
Jim Kienhuis (Team Manager): 'We are doing great. We mainly work from home and we try to stay positive. We just rounded up the design phase and we are starting with the production of the bike. Technical planning is still on track. Financial part is more challenging, because it is difficult to find financial partners during a crisis. That is one of our main challenges right now. Apart from that we actually didn't have to make any compromises on our plans. I think our team is very adaptable and the result will not show that the bike was made during a crisis. Until now we worked on the design, which was a challenge to finish while only working online, but we managed. The production will need to happen on location. The assembly will require more people present, but we will not start that process until spring. Hopefully the situation will be better by then and meeting with more people will be allowed. We try to keep everyone safe. We know when anyone is coming to the office and we keep distance.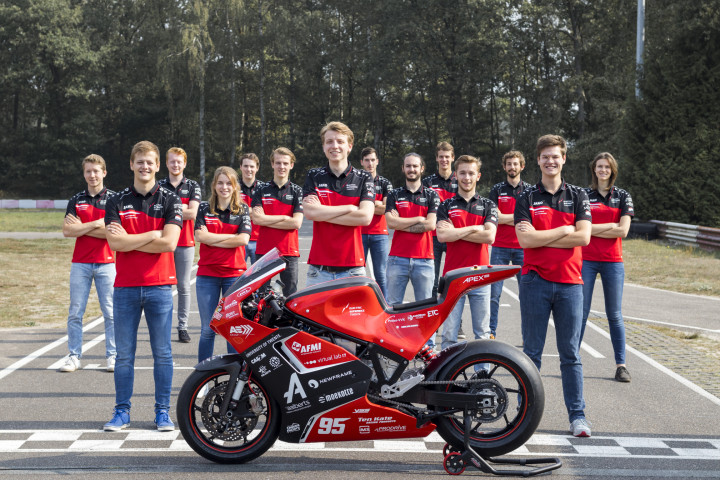 We feel connected as a team. We have been working on the same project since September, and so there is a connection but it would be stronger if we could work together in person. You miss a whole part of human interaction if you only communicate online. Team building activities are of course difficult. People want to close their laptops at the end of the day, not join an online drink.
Unlike other teams, we are not preparing for one big event this year. We have several equally important races spread throughout the year. The first planned race is in July in Finland. If it goes on, we will probably be racing with two superbikes from Twente. As the one from last year didn't get a chance to compete, the previous team will also race and we will be competing against each other, so that should be interesting. But we of course don't know if the races will happen and there is nothing we can do about that. The only thing we can do is to finish the bike, the rest we cannot influence.'