In 2012, Susheel Dangol (38) was a fresh graduate of the ITC Faculty at the University of Twente. Now he is the Chief Survey Officer, employed by the Nepal Government to determine the true height of Mount Everest.  
Why was this project initiated?
Dangol: 'It's been about 170 years since Mount Everest was identified as the highest peak in the world. Its height has been measured several times by several other countries, but the widely accepted measurement - of 8,848 meters above sea level - was performed by Survey of India in the 1950's. There are hypotheses that the mountain has increased or, on the contrary, shrunk. After the devastating earthquake in 2015, there was a question regarding the probability of change in height of Mt. Everest. Hence, the Government of Nepal has initiated this measurement project. It is a matter of national pride to measure the highest mountain ourselves for the first time.'
How does it feel to lead this project?
'I have been working for the survey department for many years. I was really happy when I was awarded coordination of this project, but I also felt challenged. Am I even able to lead something like this? It is also a matter of pride for me. It is such an honor to coordinate this prestigious project.'
How will you conduct the measurements?
'How much time do you have? This might be a long answer. We are using two methods. The first one is the traditional one: trigonometrical leveling, which was the same methodology used by Survey of India in 1954. It is a simple height and distance method, based on measuring the vertical angles from different locations from where the Everest is visible. The base height is from the sea level which is connected with Indian height datum. For this we have selected twelve stations. The height from Indian datum is carried to three of these points by Precise Leveling method. The second method relies on modern technology. Considering the Everest at the middle, and from north to south along the country, we have been establishing control network at each 10 X 10 km at mountain region and 25 X 25 km at plain area. We have established 297 such control points. Then we conduct precise surface gravity and GNSS observations for each of these points. The field work began already in February 2018 and now it is nearly completed.'
Did you physically go to Mount Everest?
'I didn't climb it myself, but we have sent two of our surveyors there. They did the entire expedition to conduct the GNSS observation. They spent nearly two hours at the top. It wasn't really possible for me to go. It depends largely on your health and physical fitness. We had to carefully select two of our team members who we knew were capable of it. I went to the base camp though. That is at 5360 meters.'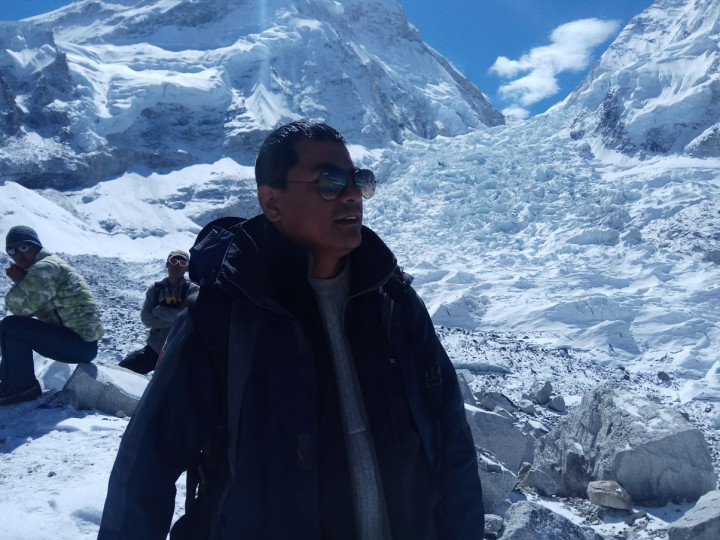 What did it feel like to be there?
'For us it was not only about getting to the top, like for most other people. We needed to do the measurements. It was a very serious and difficult task. I myself felt really overwhelmed by the commitment of our team.'
When will the project be finished?
'The field work is 90% completed. We have done all the GNSS observations, precise leveling and more of gravity survey. We hope to be completely finished with field work within the next two months. We got slightly delayed, because we can only do the observations in certain seasons – for some we need to fly a helicopter, for some we need to drive and for some even climb, so it depends on the weather. After this we will need to process the data. I haven't seen the data yet, so I cannot predict the result yet. We should be able to announce the accurate height of Mount Everest in early 2020.'