PlaygroundVR was developed by a group of four: two UT alumni Jason van Eunen and Freek Teunen, both former students of Creative Technology, a current CreaTe student Koen Vogel and Emiel Peperkamp. Today the founders started a crowdfunding campaign, which they hope will allow them to donate PlaygroundVR to hospitals in the Netherlands. Jason van Eunen tells us more.  
What is PlaygroundVR?
'It is a virtual playing area for children in hospitals. We talked to kids in hospitals and we asked them what they missed the most. Unanimously they all said "playing outside". We have a passion for virtual reality (VR), and so we started thinking how we could use this technology to help them. Eventually we thought, since we can't bring them to a playground, why not bring a playground to them? Now, a few years later, the virtual playground is ready. It is just like a regular playground that the kids can freely explore. There are no rules. There are some basic objects, such as a ball or a stick, that they can interact with and use their imagination. The goal was to make it as natural as possible. It is also a multiplayer game, so that kids from different rooms can play together and feel connected.'
So the kids can play while simply lying in bed?
'Yes, they use a controller to operate the environment, so it is possible for them to play even with limited mobility. We even had children in a wheelchair try it. After using it, one child in a wheelchair actually told us "it felt like I was not in a wheelchair for a moment". That was really cool.'
Is PlaygroundVR already being used?
'From this autumn it will be used in the Wilhelmina Children's Hospital in Utrecht. For now we are doing play sessions in various hospitals to test it and see what children like. We already got this idea more than three years ago, but people were not ready for it, they asked us why the kids can't just play Playstation or something similar. Now the time has come and people see the benefits of VR.'
What are the benefits?
'VR is a distraction. It is fully immersive, so you don't see or feel anything from the outside environment while you are in it. It is therefore also a distraction from pain – because pain is something that requires your attention. VR helps you get rid of pain through the power of distraction. Moreover, some kids are in isolation rooms and can't meet other children. This way they can connect with others and that is very good for their mental health. And we all know that feeling emotionally good is very important for your physical health.'
You also started a crowdfunding campaign. Why?
'We want to donate our solution to hospitals in the Netherlands and to develop it further. We are aiming for €55.000, which would allow us to offer the technology to hospitals for free.'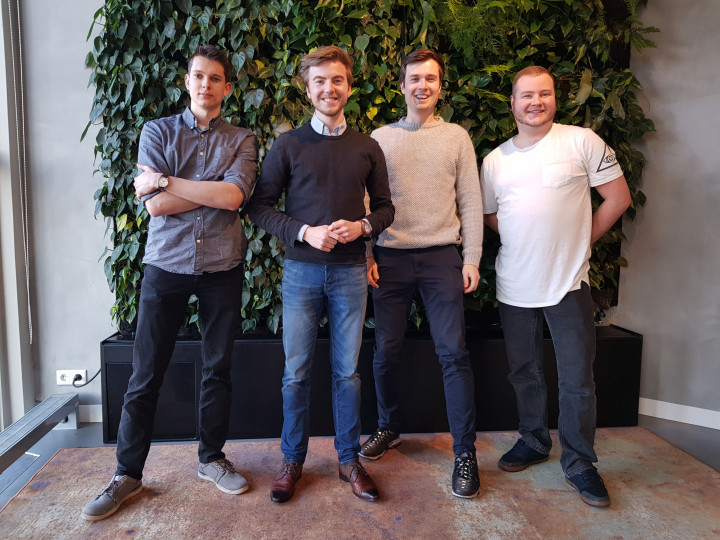 The makers of PlaygroundVR. From left to right: Koen Vogel, Jason van Eunen, Freek Teunen and Emiel Peperkamp.