The Marina van Damme scholarship is annually awarded to an ambitious UT alumna with the purpose of advancing her career. This year, for the first time ever, the jury made an exception and named two winners: Renee Springer (who got the full scholarship of €9.000) and Sietske Zagers (runner-up scholarship of €2500). We talked to both to ask about their motivation and plans.
 'I want to lower the work pressure on teachers'
Renee Springer obtained her Bachelor's degree in Applied Mathematics at the UT in 2005. She continued to do her Master's of Science Education here, where she chose the math track. Nowadays, she's a math teacher at the Amersfoort based Vathorst College (secondary education).
Congratulations, Renee. Did winning the scholarship come as a surprise to you?
Springer: 'It did! Although applying for the scholarship was on my mind last year. The timing back then wasn't right, because I was pregnant. But now I took my shot and it was an immediate hit. I'm very happy with it!'
Why did you choose to apply?
'It's a great tool if you want to give your career a nudge in a different direction. I've been a math teacher for about sixteen years by now. This is the point when I'm starting to ask myself: yes, I love my job, but for how long?'
What step do you want to take in your career, using this scholarship?
'I already signed up for a course in Amsterdam, aimed at becoming an education manager. And I'm planning to follow a course in Tilburg, to become a work happiness professional. My goal is to advance towards middle management and making myself useful to lower the work pressure on teachers.'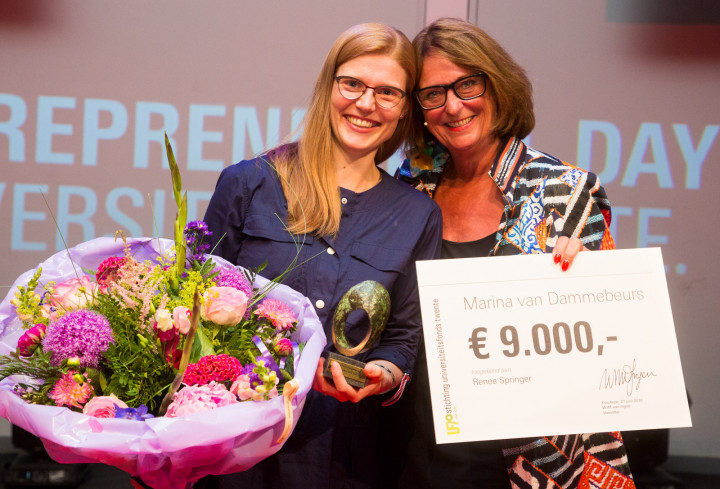 How big is the work pressure problem in secondary education?
'Teachers have gotten more tasks in the last couple of years. Education has to connect more with society and "passend onderwijs" has been introduced, which means students have to be challenged more on an individual level. Movements like that also require an effort of teachers who already put a lot of time and passion into both preparation and their classes. It really puts a strain on the balance and energy levels of teachers.'
If you advance towards middle management, will you still be teaching?
'Yes, the position I have in mind allows that. The best part of working in education is seeing your students grow from youngsters to young adults. To see them leave the nest and having yourself be part of their development is something truly wonderful.'
The Marina van Damme Scholarship gives you four years' time for career development. Where do you see yourself in four years?
'Both as a department leader and a math teacher in secondary education. I love teaching, so I never want to give up that part of my job.'
 'I want to learn how to survive in the jungle of female leadership' 
Sietske Zagers obtained her Master's degree in Educational Design, Management and Media at the UT in 2001. She currently works as the CEO of Elevate Health, an UMC-U spin-off offering online medical courses for medical researchers, veterinary scientists and health professionals. 
Were you surprised to win?
Zagers: 'Yes, of course. It's a great honour. I graduated more than fifteen years ago and the UT was where my career started. I'm proud to be considered one of the best alumni.'
Why did you decide to apply for the Marina van Damme scholarship?
'I was promoted to my current position as Managing Director about six months ago. It's a great position, but as the CEO of a start-up I need to constantly improve myself. I believe it's very important to stay open for feedback and share experiences to grow. The scholarship is not only for making a career change – which already happened in my case -, but also for achieving more success and staying at the top. And I would not say I'm at the top yet, this is only the beginning for me. The best has yet to come. I want to use the €2.500 I won to develop as an entrepreneur and to strengthen my network. I'd like to follow a course focused on excellent leadership, designed especially for women working in an international context. Some say it's lonely at the top, but if you gather strong people around you, you can reinforce each other. I believe in the motto 'Work hard, play hard' together. I want to learn from others how to survive in the jungle of female leadership.'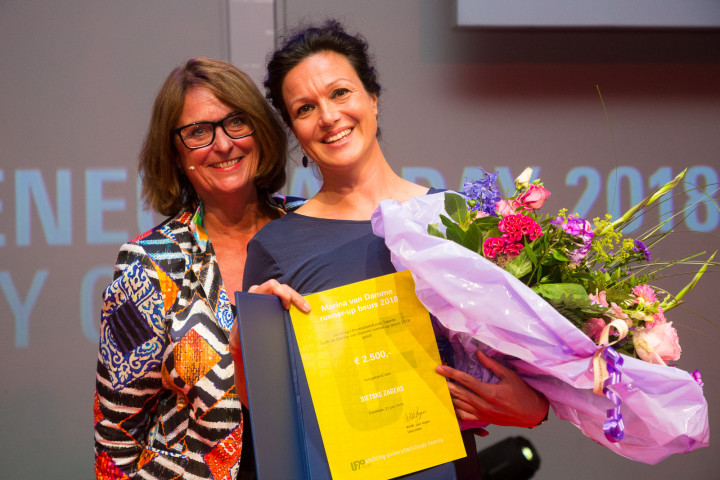 You say this is only the start of your journey to success. Where do you see yourself in five years?
'Elevate develops online learning programs for medical and healthcare professionals. Within five years, I'd like to reach even more participants and increase the impact of our collaboration with universities and hospitals across the globe. I want to be a truly inspirational leader – which was another reason why I applied for the scholarship, to motivate people in my team to work on their personal development. We can make a difference and within five years I hope to make a difference in an international community by contributing to good quality healthcare blended programs for students from all over the world.'