The open discussion, held in the DesignLab, marked the start of a series of workshops and debates on the topic #MeToo in Academia. Today's event focused on discussing what kind of sexual and power abuse people within academia face and how they can deal with such issues. Besides the actively involved audience, the debate featured two main speakers: scientists Jennifer Saul (University of Sheffield) and Zoë Robaey (Delft University of Technology).
'Sexual harassment isn't only about trying to get sex, but also about making others uncomfortable,' began Jennifer Saul. 'We need a system in which people can say "no" without the fear of retaliation. In academia, we can't focus only on relationships within the institution, because people also depend on, for example, a letter of reference from someone they met at a conference. A difficulty is that each institution and culture has its own regulations and definitions of sexual abuse.'
Informal and formal channels
One of the main topics discussed during the FFNT lunch was what people can do if they become victims or witnesses of abuse. Zoë Robaey dealt with her experiences through informal channels by starting a support group: 'Talking and listening to others helps you realize that you are definitely not alone, that it happens to everyone,' she said.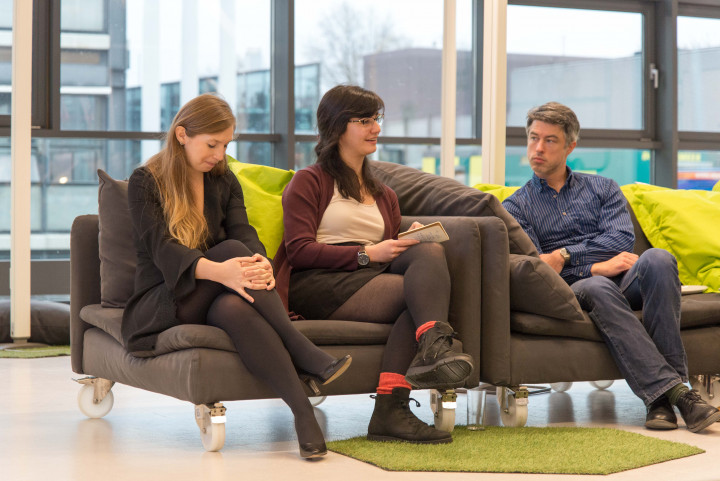 What if listening or talking isn't enough? You can always turn to the formal channels. 'At the UT, students can turn to student advisors. Employees can seek help with the confidential advisors,' informed Annemarie Arets-Meulman, one of the university's four confidential advisors. 'We are here for everyone and we can help you deal with the issue in any way you like. If you choose to do so, you can place an official complaint and the UT takes them very seriously.'
If a person decides to file a complaint, it is judged by an independent complaint committee, which allows both the accuser and the accused to share their perspective on the matter. Afterwards, the committee advises the UT's Executive Board on how to act.
Social sanctions
'The problem is that there are often instances that aren't against regulations, but still make people uncomfortable,' pointed out Jennifer Saul. 'I knew a researcher who was dating undergraduates which made many students uneasy. In such cases, we can apply social sanctioning. Instead of laughing at his stories of dating young students, we can give him a disapproving look and tell him he is creating a bad atmosphere at the department.'
'There is always something you can do.'
Saul shared another example of a situation when bystanders could be the deciding factor: 'A student I know was in a pub with her colleagues and the head of the department told her "I think it would be fun to drip hot wax on your nipples". All his colleagues laughed and the girl was horrified. If instead they said it wasn't okay or approached her later and apologized, it would have made a difference to her. There is always something you can do.'
'It astonishes me how much we don't care about each other,' remarked a member of the audience in response. 'The #MeToo movement seems to be about asking people to care about their peers. In academia, it is business first, people later.'
Coming up
FFNT will continue their #MeToo series with more events. The next one will take place on the 22nd of February, when Wiendelt Steenbergen will lead a meeting to talk about 'Integrity code of conduct in BMPI' (Biomedical Photonic Imaging group).