'We are here today to not only kick off this academic year, but also to look into the future,' ITC's dean Professor Tom Veldkamp began the ceremony. 'Next year we will have a new organization of the opening program. We are considering organizing a program involving the whole university. Because even though we are not yet located at the UT campus, it is good to know that you are one of many faculties and you are certainly not the only internationals at the UT.'
Sustainable Development Goals
In his opening speech, Prof. Veldkamp took some time to discuss the Sustainable Development Goals: 'Based on our ITC2020 Vision, we want to play a bigger role in helping to achieve these goals. We want to help solve the grand challenges and advance the Global South. For that, we need to develop resilient and robust solutions. There is still so much to do and investigate. Our job is far from done.'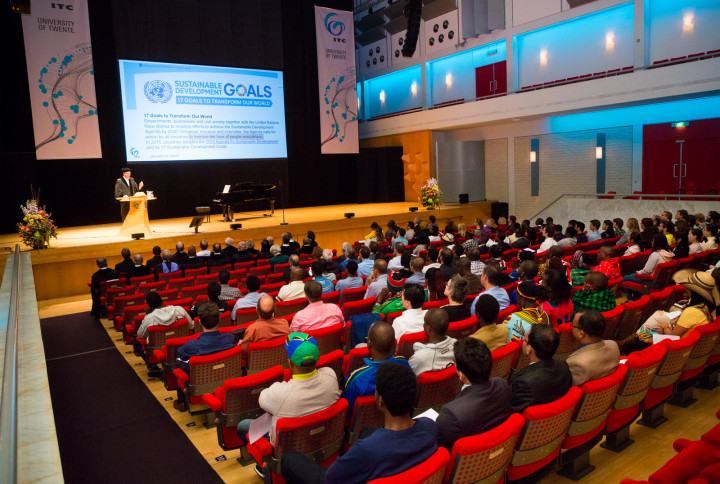 'Help will always be given by ITC'
After the dean's words of welcome, the president of the Student Association Board Appau William Miller also offered encouragement and advice to the new ITC students: 'Studying here will be challenging, but it will make you stronger in the long run,' said Miller. 'It is hard to be so far from home, but I advise you to enjoy the local diversity, meet new people. Be open and communicative. It won't always be easy, but help will always be given by your new ITC adoptive family.'
ITC Publication Award
As every year, the ITC Publication Award was presented at the event. This award for the best scientific paper written by a PhD student was given to Nina Amiri for her paper titled 'Estimation of regeneration coverage in a temperate forest by 3D segmentation using airborne laser scanning data'. Nina Amiri took away not only the prize, but also a cheque for €1000.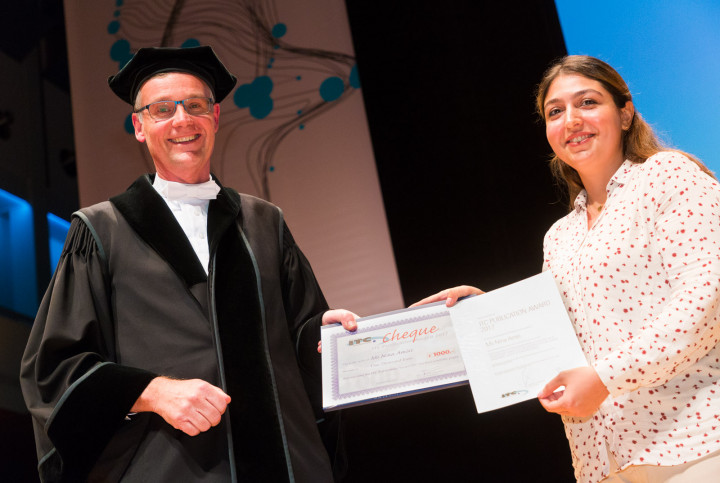 Climate change: 'We should all be worried'
'Early warning - last resort in a changing climate'. That was the title of this year's Schermerhorn lecture, named after the founder of ITC and traditionally presented during the opening of the academic year ceremony. As the title suggests, the lecture focused on climate change and it was given by Prof. Gerard van der Steenhoven, a UT professor and the Director General of the Royal Netherlands Meteorological Institute (KNMI).
Many parts of the world have been dealing with severe natural disasters lately. Hurricanes Irma and Katia in the Caribbean or large earthquakes in Mexico, to only name a few. 'We often get asked to what extent are these disasters related to climate change,' started Prof. Van der Steenhoven. 'And they certainly are related. The frequency of these events is the same, but the intensity is much higher. We should all be worried and see how we can use our knowledge to prevent casualties and damage.'
Extreme weather
'Our job as scientists is to come up with innovations that help our fellow citizens. To do that, we need to understand extreme weather and see what we can do to prepare ourselves. Because, on top of known climate change consequences such as the sea level rising, extreme weather is another big result of climate change and more extreme weather events will come,' continued the professor.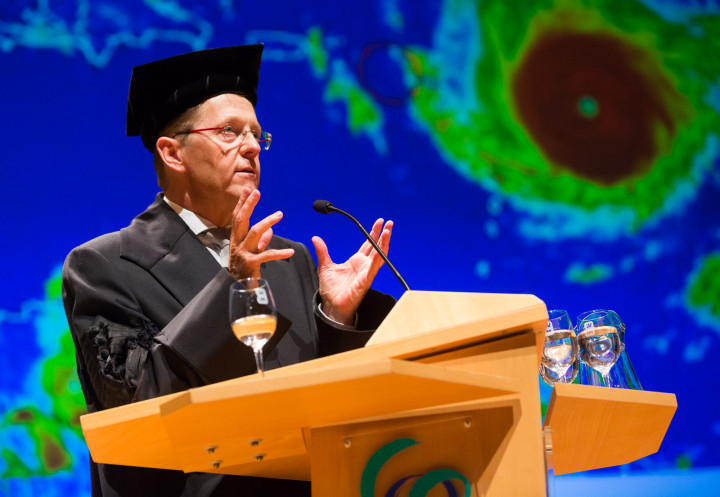 'Besides the recent hurricanes, there are heat waves in India reaching up to 45°C, forest fires in Indonesia causing people to abandon certain areas. And extreme weather also reaches the Netherlands. There have been storms in the south of the country, involving large hailstones that caused 5 million Euros worth of damages. This shows the impact of these events can be very large.'
Early warning systems
'What needs to be done?' asked Van der Steenhoven. 'Policy measures need to be taken - we have to reduce CO2 emissions and adapt our infrastructure. Societal change needs to happen, we need to create climate awareness. And we need to focus on research and development, improve forecast and warning. Because it is often impossible to prevent a disaster, but with earlier and more localized warning systems we can have time to take action.'
'Such warning systems are possible, but don't forget they also need to be financially feasible. You always need a good business plan,' concluded Van der Steenhoven. 'The world needs good students educated at top universities. You are very smart for selecting this one and I hope that you can bring the knowledge you'll gain here to our society.'