'Diversity is on the top of the mind of the Executive Board, as well as the new rector. We need it to fulfill our mission as a university. We want to attract the best talent and be an inclusive employer,' said Mirjam Bult, who opened this year's edition of the annual conference organized by FFNT (Female Faculty Network Twente).
Diversity of roles and responsibilities
The event has taken place today in the Vrijhof building and it welcomed several keynote speakers, including Svetlana Khapova, a UT alumna and a Professor of Careers and Organization Studies at the VU Amsterdam. 'Making a career at a Dutch university is like juggling balls,' thinks Prof. Khapova. 'You need to be an excellent researcher, an excellent teacher, have a serious management position, acquire funding, mentor and supervise others, develop international visibility and much more. There is a diversity of roles and responsibilities.'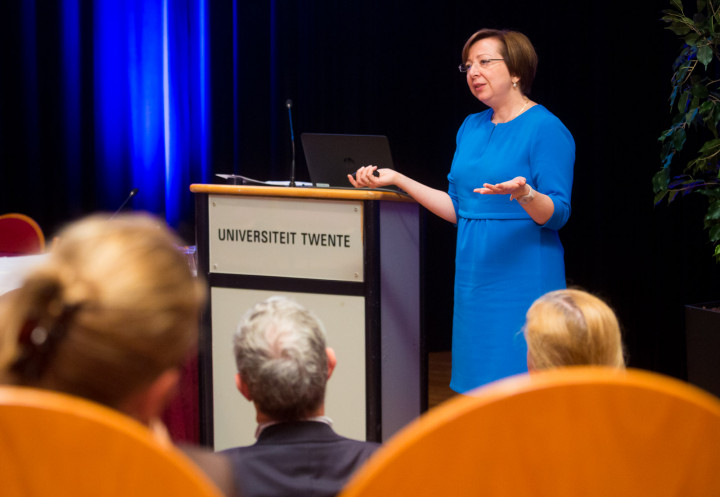 How should you navigate through the Dutch academic system, especially if you are an international researcher? Should you focus on local contributions or building an international reputation? 'The career arena dictates a global research identity and a local organizational citizenship. How do you balance that? You have responsibility for yourself and your own research papers first. Then comes responsibility for your group and then the local institute. The higher position you have, the more you have to be involved locally,' described Prof. Khapova.
'Disappointing' examples
'You have to follow the Dutch system and its criteria, but you have to balance. If you follow it too much, you become local too soon. I've learnt never to let my own research papers wait. Let me give you a disappointing example. There was an international female scholar invited to join our faculty. She was asked to help with teaching, situation which surely many of you recognize. She was told that she would get a tenure anyway, if she does her part locally and teaches. However, she didn't receive the tenure position, because she didn't meet all the requirements,' continued Khapova.
'I realized this was a diversity issue. The problem was the unclear internal communication. Should have the Dutch university be more clear about the requirements necessary for tenure? Or should we, as international scholars, also be more active in asking about the requirements?' Prof. Khapova pointed to one of the issues that come with diverse academic environment.