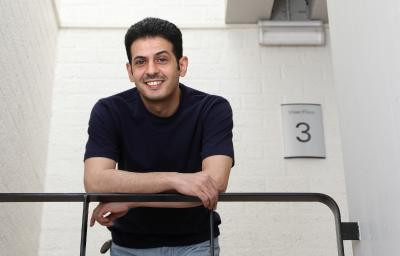 Mixing an education elixir to remedy the gap: Abdullah Almodaires will defend his doctoral dissertation, `Technology-supported reflection: Towards bridging the gap between theory and practice in teacher education' on June 24 in the Spiegel building. Photo: Gijs van Ouwerkerk
At age 36, he has developed a teaching methodology, the reflective practice approach, focusing on looking back on teaching situations from a personal perspective, where technology serves as a tool to reflect on one's actions. Looking in a figurative `mirror,' students gain knowledge about their teaching skills and can apply this learned knowledge to a new experience.
In the once British ruled Kuwait or known by its Arabic diminutive as `the fortress of water,' the current educational system is still largely based on the old British model hailing back at least to the 1960s when this sovereign Arab emirate gained its independence from the United Kingdom. The remnants of this influence have left an unchanging educational system. `Even if you look at the situation in Kuwait's educational system, at least forty years back, it's almost the same. It's a simple system, good for measurement and assessment, but it won't give you outcomes or produce creative students,' says Almodaires who plans to translate his dissertation into Arabic after returning to Kuwait. `If I want to apply my methodology then it will be more effective to have the document in Arabic. I want to be able to discuss the possibilities for change in the current system with decision makers.'
His theories can be likened to a `cost management system' or `learning management system,' where students and teachers have access to online video-based learning environments. The reflective practice model offers a more accurate description of the classroom environment, although, Alodaires admits, it is basically adapted from other educational models: `I used a spiral model because the cycle models won't explain new experiences in education. In general you never have the same experience, perhaps similar with different variables added, which change your behavior.'
According to Almodaires, there exists a sizable gap between theory and practice in education, where students engage in practice during the last phase of their degree program, usually the last six months of a four year program. This is the case at the College of Basic Education in the Public Authority for Applied Education and Training (PAAET), where, upon his return, he will fulfill his obligatory teaching period in return for scholarship funding that he has received over the past seven years while completing a double master's and PhD at the UT.
For training teachers, the move to close the gap in education can be achieved by creating a smooth interplay between theory and practice, where `real' situation go hand in hand with learning theoretical knowledge. `The European system,' said Almodaires, `is different from Kuwait. The Netherlands is even more flexible. When I saw what is taking place here, it changed my mind. I'm now a defender of the system. I would like to see such a system in my own country, maybe with some limitations.'
Favorites:

Book on nightstand: `Dreams from My Father: A Story of Race and Inheritance' (Barack Obama)
Music: Frank Sinatra and Roberta Flack.
Song: Reggae singer Bob Marley's `Redemption song'
Film: The good, the bad and the ugly
Quote: `Desire for others, what you desire for yourself, and you will be the most just man.' (Prophet Mohammed)
Food: Arabic kitchen, especially his mother's food