India holds a unique place among the UT's target countries. Given its size and growing economy, it could be of a wide strategic importance for the UT in terms of research and education collaborations – in the near future. At the moment, the university's activities in India are focused on student recruitment. And this focus is strong. India is the only place in the world where the UT has established a permanent representative office. 
India: Facts & Figures 
Structured interest of the UT since:  2016
Main focus: student enrolment  
Other collaborations: joint research projects and student exchange programs  
Examples of partner institutes: Amrita University, IIT Madras, IIT Kharagpur, Indian Institute for Remote sensing
Development over the years: 
| | | | | |
| --- | --- | --- | --- | --- |
| India (number of students per year) | 2015/2016 | 2016/2017 | 2017/2018 | 2018/2019 (preliminary number) |
| Enrolled (Master and Bachelor) students | 46 | 65 | 133 |   |
| Influx of Bachelor students | 0 | 7 | 11 | 22 |
| Influx of Master students | 27 | 42 | 111 | 95 |
UT staff involved: Marlies Overbeek (M&C department) and Sudha Sudeep (manager of the India Office) 
'Indian students like to be guided'  
The India Office was opened in 2016 after Marlies Overbeek (Marketing & Communications department) noticed the abundance of untapped opportunities in the Asian country, not only in terms of possibilities for collaboration with local universities, but mainly in the high number of Indian students interested in studying abroad. 'I looked at the inflow of Indian students and saw a big gap compared to the numbers coming to study in Delft or Eindhoven,' describes Overbeek. 'I also knew that when Indian students want to go abroad, they like to be guided, get the personal touch. For that, you of course need to be there.' Hence the idea for the India Office.
The office is run by Sudha Sudeep, Indian native who has years of experience working with Dutch educational institutes. 'Being at the location makes a huge difference,' she says. 'We need to do a lot of follow-ups. A normal Indian student sends out dozens of applications, so we need to keep contacting them, especially after they get admitted. Many students drop out between admission and enrolment. We need to stay in touch with the students, mail them, call them, invite them here. There is a lot of explaining required.'
'We need to brand Twente'
Besides having a lot of ground to cover, as India is a huge country with millions of students spread over nearly an entire subcontinent, the challenge of Sudeep's job lies in the right branding. 'We organize many presentations at universities and high schools, because the Netherlands is not as branded in India as the UK, U.S. or Australia, for example. I even used to get questions such as "Is the Netherlands the same as Denmark?" Even though this awareness is getting better, we need to brand Twente.'
'We tell students about all the UT's advantages, such as that there is a campus, so it's safe,' Sudeep describes how they 'convince' the students to opt for the UT. 'If we are talking to potential Master's students, we highlight the fact that the UT is at the border with Germany, which gives them an easy access to two countries. We also highlight that the UT is an entrepreneurial university, so it's a good place to kick start their dreams. We focus on the fact that everything is done in English, of course. What is most attractive for students is that the UT is a research university, which gives them the opportunity to pursue a PhD. Research opportunities in India are not great.'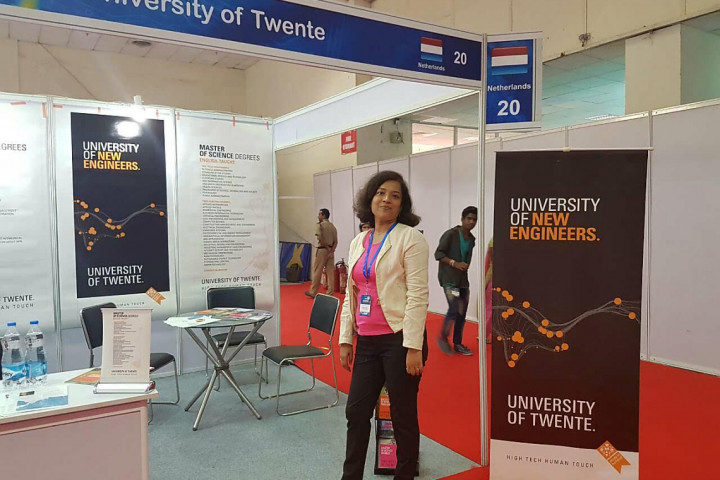 Photo: Sudha Sudeep 
There is another reason why having an Indian representative recruiting Indian students is invaluable. 'Indian cultural foundations are very different from ours. We have the luxury of working with Sudha, someone who is very familiar with both countries. She is our bridge, which makes it easy for us to connect,' says Overbeek.
'Sometimes the whole family comes here for counselling - the parents, the grandparents, aunts, uncles...'
'There certainly are huge cultural differences,' agrees Sudeep. 'In India, young people of 17 or 18 years old are still considered children, not adults. That means many of their decisions are made by their parents or elders. That is a huge cultural difference we need to tackle. Here students think with their parents and teachers, so we also need to persuade them. Sometimes the whole family comes here for counselling - the parents, the grandparents, aunts, uncles... They want their child to go abroad, but they worry a lot. We need to answer their concerns. That's why the campus is a big advantage for us. We can explain that the students are safe because it's so easy to get around.'
Growing
The local presence is bearing fruit, as evidenced by the growing number of Indian students applying to the UT. 'At first we worked only with about 30 Indian students, but soon we got to 70 and now we will reach about 140,' mentions Sudeep.
The UT's work in India is currently concentrated on recruitment of students, but Marlies Overbeek points out that this is only the beginning: 'It's certainly not just about boosting the number of students at the UT. There has indeed been an increase in the number of Indian students coming here, but the number will not and should not grow indefinitely. We want to have a diverse student population at the UT.'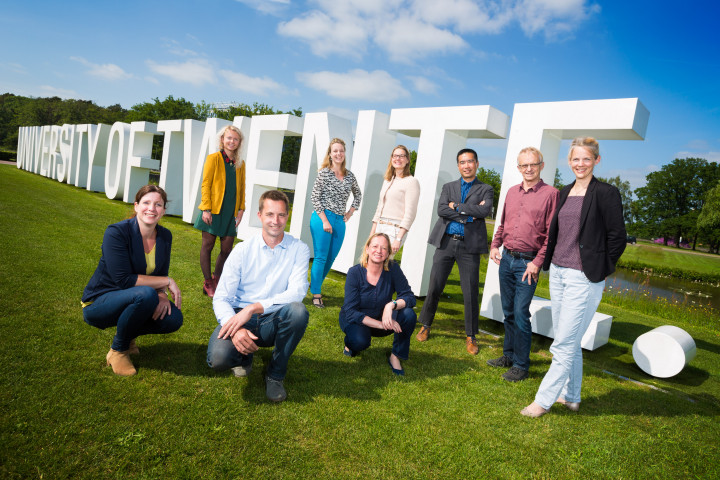 Photo of all country coordinators and 'focus countries relevant' staff. Marlies Overbeek on the far left. Photo by: Gijs van Ouwerkerk 
The university is now considering more extensive form of collaboration with and within India. 'There is currently no country coordinator for India, but we will look into more institutional collaboration and we want to arrange more access for our scientific staff. There already are joint research projects and student exchange programs. For example, ITC has a double degree programme in their field in India. We are trying to map the activities and expand our cooperation with Indian institutes.'  Starting more institutional collaborations could therefore represent the next step for the UT-India relation. As Sudha Sudeep puts it: 'The UT's focus on India shows that if you work on something, the results will come. It's no rocket science.'
Student's voice: 'Netherlands had the most economical options'
Krittika Choudhury (MSc. Biomedical Engineering)
What made you choose Twente?
'I was determined to apply only to colleges in the Netherlands, because of the state of the art biomedical research going on here. Also because I really was not fascinated by the USA, and the UK colleges were way too expensive for international students. Netherlands had the most economical options, and apart from that the extra search year offered to international students after they graduate is a big help while looking for the next opportunity. I chose the UT because the courses here were just the right balance between the design aspect and the technical aspect of biomedical engineering.'  
Is the UT what you expected it to be?
'It is just what I expected it to be and more. What surprised me is the involvement and approachability of the professors in every course. It is very unlike what I had experienced in India. Everyone is always available for a discussion, an opinion or advice. What I really like about studying here are the courses and, most importantly, at the risk of sounding like a complete nerd, the lab facilities and the research. What I don't like so much is the number of people here. It's too little. I am used to walking in a sea of people. I am also not particularly a fan of the food in the cafeterias or the fact that people cycle everywhere all the time. Of course there are cultural differences, that is unavoidable. For instance, people eat freely in classes here which is something that is really frowned upon in India. Everyone I go to class with has a strong opinion about things, and most classes are more discussion based than simply lectures. In India, the word of the professor is the law and no one doubts it.'  
Is there something the UT can do to get more Indian students and/or to make it easier for them to study here?
'I think increasing the number of scholarships would go a long way. The thing that dissuades most Indians form pursuing a study abroad is the huge investment that it demands. There are a lot of really smart, really innovative people that just need a helping hand. Secondly, I do not understand why the UT does not offer new scholarship opportunities to students in their second year. A lot of times, people who are granted scholarships in their first year receive it purely by a twist of fate. If the UT really wants to make it easier for Indian students to consider, this is one thing that they should really keep in mind.'