At first glance, Aurora Two takes after its older sister Aurora One, the student team's creation from last year. The vehicle's carbon-fiber body might be the same, but most things 'under the hood' have been redesigned to ensure the Green Team's victory in the upcoming Shell Eco Marathon (SEM). 'We decided that most improvements could be gained by internal changes to the car,' explains the team manager Matthias Haalstra.
Cooler and lighter
Aurora Two's predecessor experienced various difficulties during the 2018 SEM, but the team is confident that they will be able to prevent those this summer. 'We focused on reliability and efficiency. The main problem last year was overheating of the fuel cell,' says Haalstra. 'We got an entirely new fuel cell that is able to operate at a higher temperature and is more efficient. Moreover, we got a new cooling system, allowing us to get cooler air from the outside. Another issue last year was interference. We optimized our electrical parts to counter this.'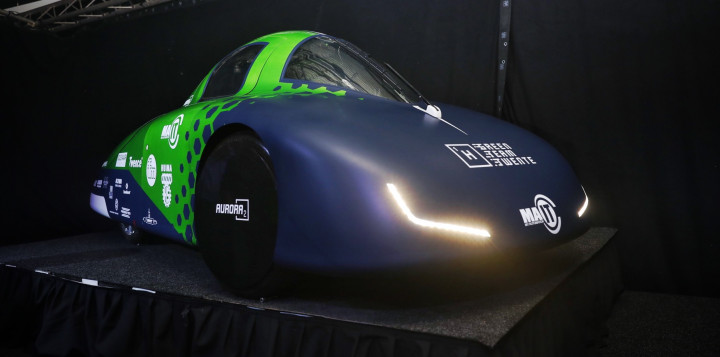 Shell Eco Marathon
The Green Team Twente is a student team dedicated to building a fuel-efficient hydrogen car, with which they compete in the annual Shell Eco Marathon (SEM) Europe. This year's edition of the competition will take place at Mercedes-Benz World in the UK, from July 2 – 5, 2019. In order to win, the UT team needs to travel the furthest on the equivalent of one liter of fuel.
The latest hydrogen car also features a new gear box, a new motor and regenerative braking system, which should allow it to save energy, as well as to accelerate faster. Other changes in the hydrogen system reduced the weight of the vehicle, which is now at about 100 kg compared to 110 kg previous year.
New driving strategy
To secure a good result in the SEM, the Green Team Twente hasn't only prepared the car, but also a brand-new driving strategy. It specifies where and how the driver should accelerate, brake and cruise, and therefore use the least possible amount of fuel. The driving strategy is in the hands of Yanna Kraakman, who also happens to be the team's main driver. 'That is convenient,' she says and her teammate Gidde Tuitert adds: 'We picked Yanna as the driver because she can keep her head clear even in stressful situations and make good decisions. Plus, she is the expert on the driving strategy.'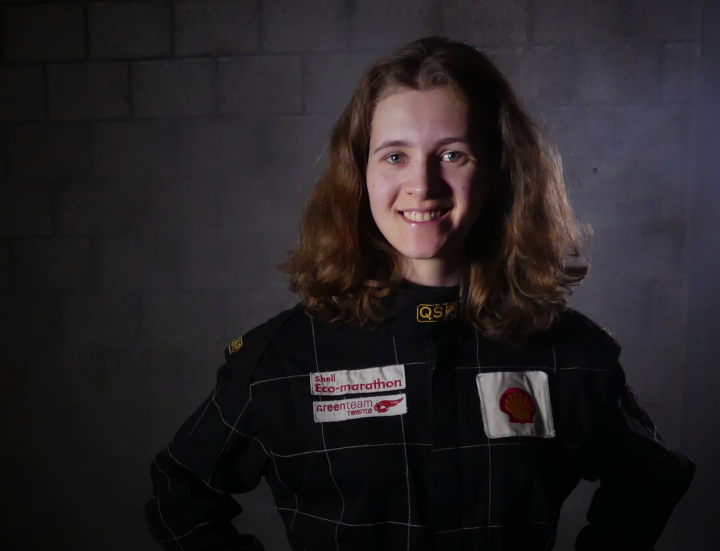 The driver Yanna Kraakman
'I need to crawl in like a spider'
What is it like to be behind the wheel of Aurora Two? 'There is a lot of noise and getting in is a challenge. I kind of need to crawl in like a spider,' says Kraakman. 'It is really fun to drive. It is nice to sit in the result of this year's work.' How about the heat? 'Last year the temperature in the cabin reached about 60°C, and so the driver was very hot. This year I will be wearing a special cooling vest and there will be air holes in the car to get fresh air in. You don't want any human errors during the race, and so you really want to keep your driver sane.'
'Our goal is to win'
The Shell Eco Marathon is less than two months away. 'Our goal is to win,' says Haalstra. 'We want to be the winner among the hydrogen teams, so that we can also compete in the Drivers' World Championship. Last year didn't go well, but we improved and we believe we should be able to be at the top.'