Allegra Passmann
Bachelor's student of Psychology, from Germany
'Staying here is the right thing to do'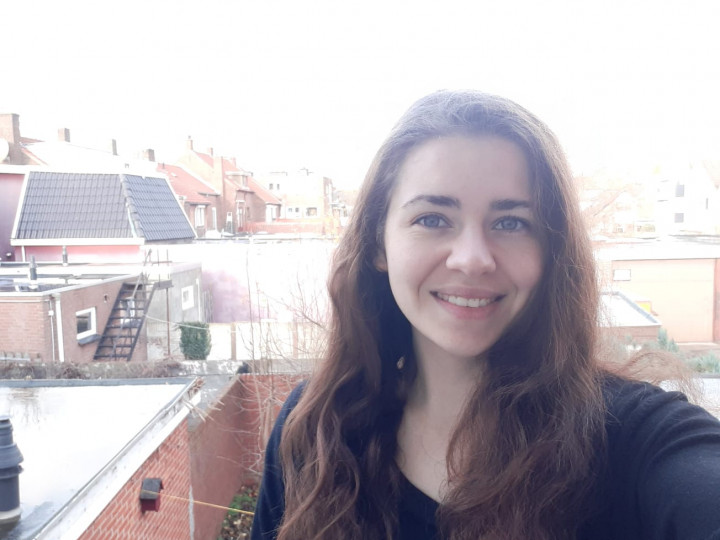 'On Christmas I will definitely videocall with my family, but otherwise I'll try to treat it like a normal day. I'm afraid I would get sad otherwise. It's a shame that I can't see my family, but I also try to look at it objectively. I would only see them for a dinner, so I decided not to go. The numbers of corona cases are much worse here than in Germany and I would have to travel by train. I would just not have a good feeling about it and would be worried to see my grandmother, for example. I know my family is a bit disappointed that I'm not coming, but I think they are actually also quite proud that I'm being responsible about this. Technically I would have to go into quarantine after arriving to Germany and after arriving back here. That would not be very fair to my roommates, who might stay here during Christmas.
'I will try to make it as untraditional as possible'
I don't have any big plans for Christmas days. I might see a friend, but I will try to make it as untraditional as possible to sort of forget about it. I'm not happy about staying here, but at the same time I'm a bit relieved. I don't have to feel guilty or worried. If somebody gets sick, it's at least not because of me. Netflix has a lot of Christmas movies, so I will have enough to do. I also have a lot of studying to do, so I will be busy with that. And it's nice that I can be here for friends, who also cannot travel. Those are some positive aspects of this. Obviously I'm sad about this situation, but staying here is the right thing to do. I'll just try to make the best of it.'
Fardad Maghousi Moud
PhD candidate at the ITC Faculty, from Iran
'It is depressing but at least we learn something from these hard moments'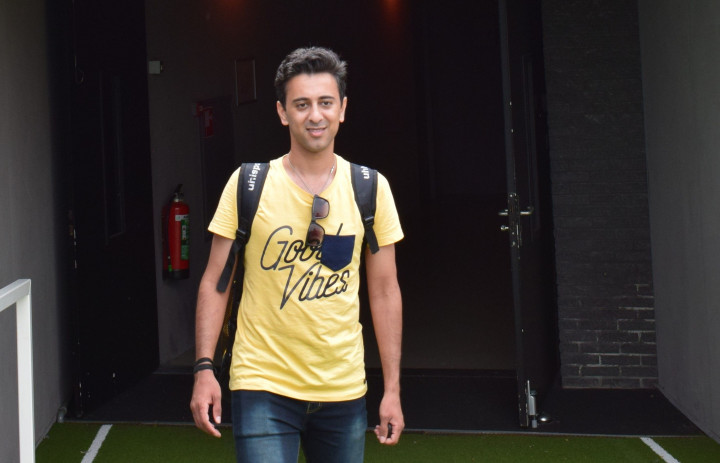 'I haven't been home in Iran since I started my PhD here in 2018 and I've decided not go back now. The corona situation is really bad there. If I stay here, I keep my parents safe and I don't have to go into quarantine or get stuck there. I don't want to risk my PhD, all the hard work, because of this. My initial plan for this Christmas was to stay with my best friend who lives in Delft, but because there are so many corona cases, we are scared to do that. We will see how things develop, but so far it doesn't seem like a good idea. However, we are sticking to our plan which we've had since the first lockdown. We are playing videogames together almost every night. That has really helped us to prevent depression, which might have otherwise set in. This way we can stay in touch and talk to each other in the games. That are my evenings, but mornings are empty, so those will be dedicated to cooking. I have become quite a good chef thanks to corona and I'm planning to do a lot more traditional cooking, dishes that usually take three to four hours to make.
'I always feel positive' 
I have other plans for Christmas. With my PhD colleagues we plan to have Netflix nights, watch together and discuss the series or movies. Our department is also starting a buddy system, so we are each paired up with a buddy. My buddy is my office roommate. We have a lot of interests in common and we plan to cycle or walk together during Christmas. I have a lot of Dutch friends and I plan to visit them. That really helps – I check in on them and it boosts my mood. I hope to have a busy schedule during the holidays, otherwise it can get quite depressing. Especially with the bad weather and early sunsets. It is hard, but I imagine fifty years from now telling my grandchildren about this and about what I learnt from it. It is depressing, but at least we learn something from these hard moments. I always feel positive. I don't blame anything or anyone. This is the situation and I look at what I can do to make the best of it.'
Dilafruz Yusifzada
Master's student of Educational Science & Technology, from Azerbaijan
 'There are good things about staying here'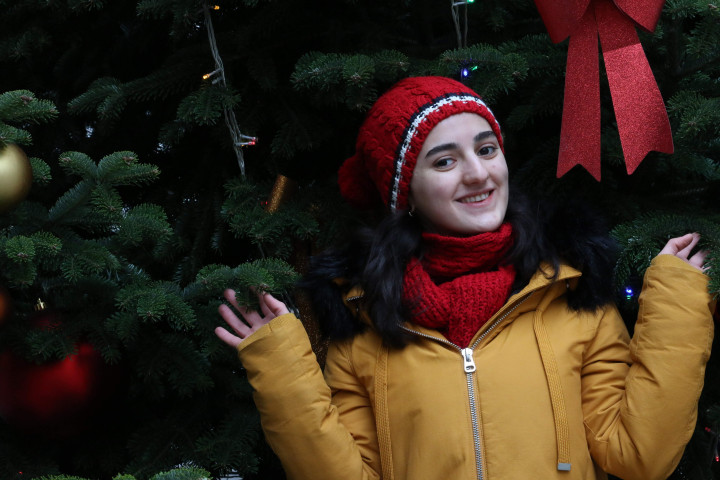 'It's challenging to be far away from my family and friends. I haven't been home at all this year, but I decided not to go. Firstly, because my graduation is coming in January, and secondly because I need to think of their safety. Moreover, there is the government's advice not to go anywhere on holiday, so I decided to follow the rules and stay here. But it is hard to not to be with your loved ones, not being able to hug them, give them presents and see the expression on their faces. However, I do feel at home on campus. There are good things about staying here. You are together with people who are in the same situation. That creates a lot of understanding and it helps you grow as a person. You become more mature, because you make decisions not for you but for everyone's wellbeing. I think this year we all learnt something as humanity. We became more patient and we learnt to appreciate every little thing.
'We need to be there for each other' 
I'm quite looking forward to Christmas. I'm free, don't have to study. I think it will be calm and happy Christmas for me. I will be staying at home and I'm planning to meet some friends, as we are allowed to receive three visitors per day. I love baking so there will probably be a lot of Christmas cupcakes in my house. I've also signed up for the Buddy programme organized by the university, so I hope to be paired up with someone nice and do something together, either in person or online. I really appreciate what the UT is doing. I see a lot of understanding for students who cannot travel back home. I'm doing fine in this situation. I can handle it, but I know a lot of people are struggling and can get really depressed. I feel very sorry for them and I try to help them when I can. I reach out to them online, ask how they are doing. If I bake, I invite them over for a cupcake. Just small things so they feel like they are not alone and that they have someone to talk to. Even a phone call can change someone's day. We need to be there for each other, help each other, so that we can follow the rules but also enjoy Christmas.'
Prasanna Padmanaban
PhD candidate in the Department of Biomechanical Engineering, from India
'It's time to be a bit creative'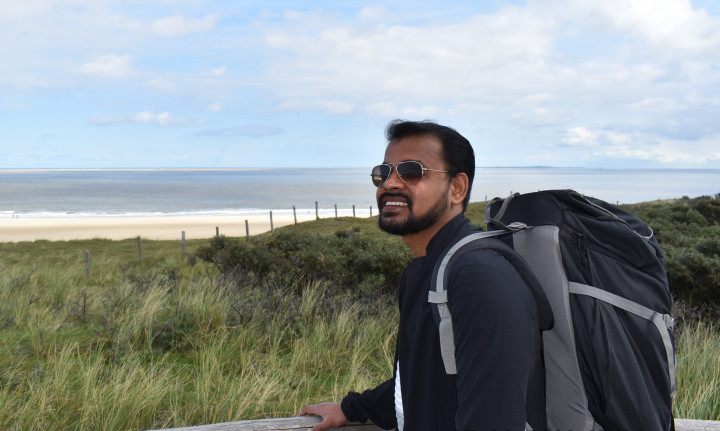 'I see the upcoming holiday more as a time to be productive than to relax as usual. Because of the travel ban, I cannot go home. Even if I did, I'd have to go into quarantine in India for two weeks and then I'd have to go into quarantine for ten days once I'd get back. I don't want to waste my time in quarantine. I don't usually go home to India for Christmas anyway – I visit my family in the summer. I like spending Christmas in Europe, because I didn't grow up in a Christian family. So European Christmas traditions are new for me. This year I actually put up my very first Christmas tree. During Christmas, I usually travel throughout Europe and visit Christmas markets. That is of course not possible, so it will be Christmas in Enschede for me. It's quiet and relaxed here, but the social aspect is missing now. I've registered for the Buddy system that the UT is organizing and I'm waiting to be paired up with a buddy or two. I decided to do that because I'm here anyway, as are many other internationals, and so it's nice to meet new people, make new friends and chat with someone.
'I will focus on productiveness and finding new hobbies' 
On Christmas itself, I'm planning to cook a festive vegetarian dinner. I'm hoping to have dinner with some friends, who are also all staying here, or with the buddy from the program. In the holiday, I will focus on productiveness and finding new hobbies. It's time to be a bit creative. The bad part is that Enschede is really small and I've seen it all, so there isn't much to explore anymore these days. The lockdown is difficult socially, but I can still work and I have access to the lab, so it is alright. I stay connected with my friends and family virtually and it seems that, at least until 19 January, I will have a lot of time for online talks with them.'