As other DesignLab initiatives, 'Fix your Bike' tried to counteract the ordinary consumer behaviour. The organizer Olaf van der Meer explained: 'Often, people easily throw things away once they are broken. But sometimes it is not even that difficult to fix it. In the end, it's all about sustainability. Thereby, there was also a large demand from the students as it will save them a lot of money!'
Around 20 focused participants were working on fixing their bikes. The vast majority of them were international students. 'We did not specifically focus on international students, but it seems logical that they are most interested in this event,' says Van der Meer. 'Many of them didn't grow up using a bike, so small things like fixing a flat tire are already difficult for them.'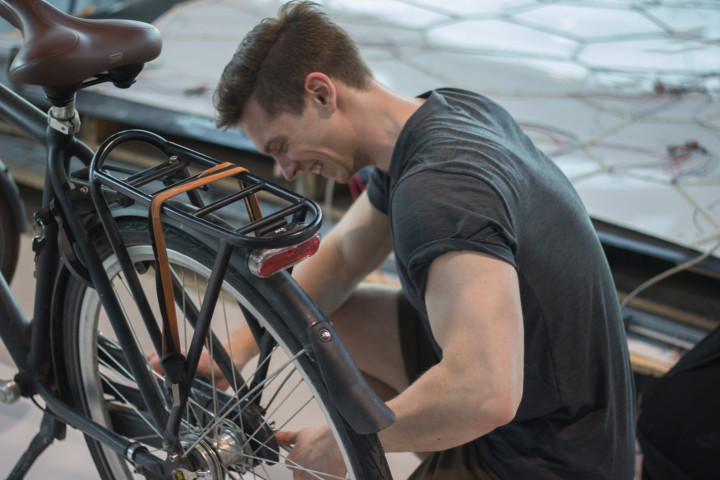 'Easier than I thought'
Gayathari Dhanapal, an Electrical Engineering student from India, realized two days ago she had a flat tire. Having arrived to Enschede three months ago, Dhanapal thought it was time to learn how to fix it. 'I used to have a scooter back in my hometown, but here everybody uses bikes.' At first, she was unsure about the procedure, but she received instructions from the organizers and got the tire out of the rim, found the problematic hole, and started patching it all by herself. 'It's easier than I thought it would be.'
Hemanth Jaladdi, another Electrical Engineering student, went to adjust the angle of his bike's seat. 'I thought it was great they had the tools to fix everything here.' Jaladdi had a bike back home, but he used to take it to a shop to get it repaired. 'Here that would be really expensive,' he complained. 'With what you pay in a repair shop you could even buy tools to fix the bike yourself.' Though his bike is not giving him many problems, it was far from being in a perfect state. 'We all buy these bikes second-hand at the marketplace and so we have to deal with them,' he joked.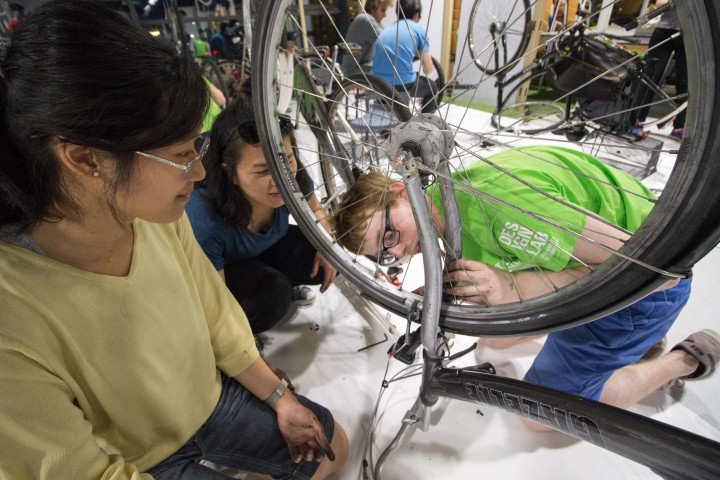 Walid Zorba, a student from Lebanon, shared what was wrong with his bike. 'We already fixed my kickstand by just using two hammers. Now I only have to fix the paddle shifters, but I think this is the most difficult one of the two so I hope they can help me.' Zorba confessed he wasn't very familiar with bikes before coming to the Netherlands. 'I never cycled in Lebanon, it is even dangerous to do so since the cars drive quite fast. But I like cycling here, my legs have become way stronger than they were before!'
TIPS & TRICKS FOR FIRST TIME BIKE-FIXERS
1. Once your bike is broken, stop cycling with it! Otherwise you will only make it worse.
2. Investing in good tools will definitely make it easier to fix your bike. It's worth it!
3. You can find a lot of Tutorials on YouTube explaining step by step how to fix common problems.
4. The chance of destroying something is very small, so don't be afraid to try things out and fix it yourself!