How many people are you expecting this year?
Köllmann: 'We have already sold hundreds of tickets and we expect to sell plenty more at the door.'
It sounds like a lot of people, how do you make sure that everything is under control?
Burghouts: 'We will have two bouncers at the door.'
Köllmann: 'Yes, and we will be communicating with them through ear buds. We are trying to become more and more professional.'
Does the money to plan everything come from your own pockets?
Köllmann: 'We used to invest our own money to buy everything for the party, then we would receive our money back from the entrance tickets. But 3 years ago we started pre-selling the tickets.'
How has that worked out for you?
Köllmann: 'Last year we started selling the tickets online and they were all gone within 16 minutes. This year it took 77 seconds to sold them all.'
Burghouts: 'I think people thought they had to make an effort to buy them in time because last year they were all gone very quickly. This year we were sent pictures of other students' houses with people sitting around 5 laptops trying to get the tickets in time.'
On the website, it says women pay €22.50 and they are granted 10 drinks, whereas men pay €27.50 and are granted 15 drinks. Why do you charge differently?
Köllmann: 'In previous years it used to be the same amount of drinks for both, but then we started getting complaints from women saying they did not need to have as many drinks and complaints from men saying they needed more drinks. But it is not like we check your gender when you buy the ticket online. People can just buy their ticket depending on how many drinks they want to drink, and it actually happens very often.'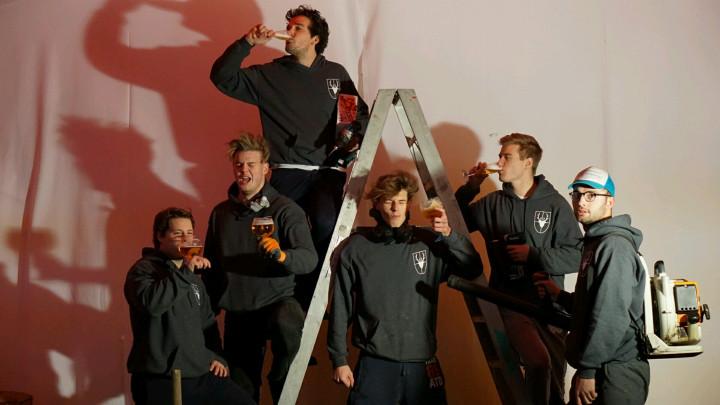 Let's talk about the theme of this year.
Köllmann: 'The theme of the party is "going back to the Big Bang". The phrase Ik zeg nog zo: "Geen bommetje!" in the poster is a reference to an old Melkunie commercial where a cow dives into a pool.'
But then, the illustrations of North Korea's military on the poster seems a bit political, were you expecting people to react in a certain way?
Köllmann: 'We always try to make a joke based on current events. We make notes of everything that has happened during the year and then vote on the topics we have. I think what we chose is something everyone is talking about. But the theme is not supposed to be politically charged at all.'
Burghouts: 'It's a student party, don't take it too seriously!'
Are you hoping people will dress up according to the theme?
Burghouts: 'No, as long as they come dressed up as anything, that's okay.'
Köllmann: 'We might see people dressing up in relation to #MeToo, or the fight between Mayweather and McGregor. Other houses really put an effort into their outfits for the night.'