As a hbo/university student in a technical area, you can show your knowledge and of course simply enjoy the evening and have some beers. You will also get the opportunity to network with the employees of the 12 high tech company's on this evening.
Our pub quiz takes place from 19:30 to about 22:00 o'clock. You can sign up individually or with a group of maximum 5 people. Number 42 from Eindhoven will come to our beautiful Twente to host the quiz. Curious about Number 42? Have a look here. Each member of the winning team will receive an Extreme Tubing Experience for 5 people!
What: High Tech Pub Quiz
Company: Ontdek Hightech Almelo
Place: 't Bölke - Molenstraat 6-8, 7514 DK Enschede
Date: Thursday, 14th November 2019
Time: 19.30 – 22.00 o'clock
Who: Students with technical background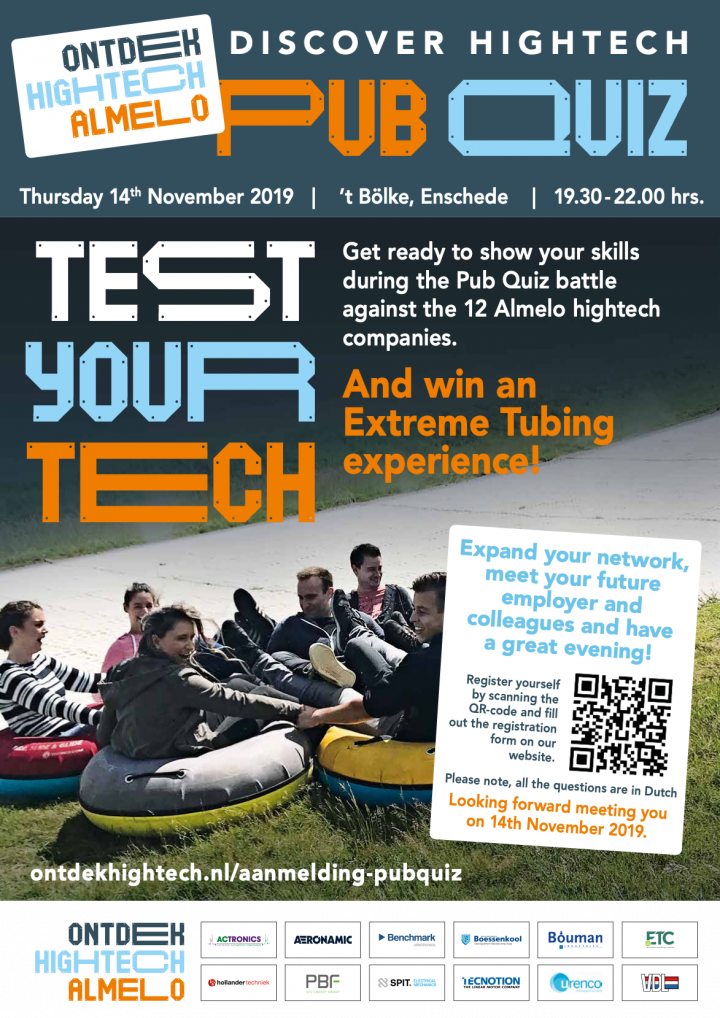 Who are we?
Ontdek Hightech Almelo is founded by 12 high tech companies. Our aim is to introduce students to tech business career opportunities in the beautiful Twente. We also aspire to inspire the youth to discover what high tech companies in Twente have to offer.
Interested?

Are you interested to join our high tech pub quiz and to challange yourself? Sign yourself and your team members up here or via the QR-code on the poster. For more information visit our website www.ontdekhightech.nl.