During this day, you will have the chance to hear keynotes from our Chief Innovation Jeroen Tas and 2 other renowned professionals in the field of digital health tech, Max Welling, professor at the UvA and Iain Buchan, who is a professor in Manchester and Cambridge (UK) . Next to that you have an afternoon of demos from our different departments, a very interactive co-create session with Philips Design and of course plenty of time to network.

Interested? Please register directly for this free event. Or check the website.
We are very much looking forward to seeing you in our brand new state of the art building.
Program
Time Subject Building
10:00 Arrival/registration HTC 34
10:30 Opening speech HTC 34
Keynote Jeroen Tas HTC 34
Keynote Max Welling HTC 34
12:00 Walking lunch HTC 36
Demo's HTC 36
13:30 Co-create workshops HTC 36
15:45 Keynote Iain Buchan HTC 36
16:30 Demo's HTC 36
Networking & Drinks HTC 36
18:00 Closing HTC 36
Presenters
Jeroen Tas is Chief Innovation & Strategy Officer at Philips and member of the Executive Committee at Royal Philips. He has more than 30 years of global experience as an entrepreneur and executive in the healthcare, information technology and financial services industries. Jeroen is responsible for the company's strategy, research & development, design, medical affairs, sustainability, platforms and emerging businesses. As Chief Innovations & Strategy Officer he plays a central role in the transition of Philips to a customer-centric digital solutions company. He will leverage emerging technologies such as artificial intelligence, robotics and the Internet of Things to reinforce the company's health propositions aimed at supporting consumers, care professionals and health systems with personalized connected health solutions.

Professor Max Welling is a research chair in Machine Learning at the University of Amsterdam and a VP Technology at Qualcomm. He has a secondary appointment at the Canadian Institute for Advanced Research (CIFAR). Max Welling heads AMLAB and co-directs Qualcomm QUVA and Bosh DELTA labs hosting a total of about 50 researchers. He serves on the board of the Neural Information Processing Systems (NIPS) Conference, the largest conference in machine learning where he also served as program chair and general chair in 2013 and 2014 respectively. He has been associate editor in chief of IEEE TPAMI (the highest impact journal in AI). He has won multiple best paper awards and the ECCV Koenderink prize in 2010. He co-authored over 250 publications in physics and machine learning and has an h-index of 52. Professor Max Welling will give a keynote on latest advancements in the field of artificial Intelligence and in particular in the field of Deep Learning.

Professor Iain Buchan is a clinical and public health informatics research leader with positions at the Universities of Manchester, Cambridge and Imperial College London. He founded and led one of Europe's most productive health informatics research groups and co-founded the Farr Institute, now Health Data Research UK, before joining Microsoft as Director of Healthcare Research in 2017 at their Cambridge UK Lab. He also served on Microsoft's Healthcare NExT leadership team. He is now returning to his academic base working closely with NHS, policy organizations and businesses. Professor Buchan will give a keynote on his experiences of developing key components of learning health systems, and envision the 'AI' needed to couple self-care and population health management for greatest societal return on investment.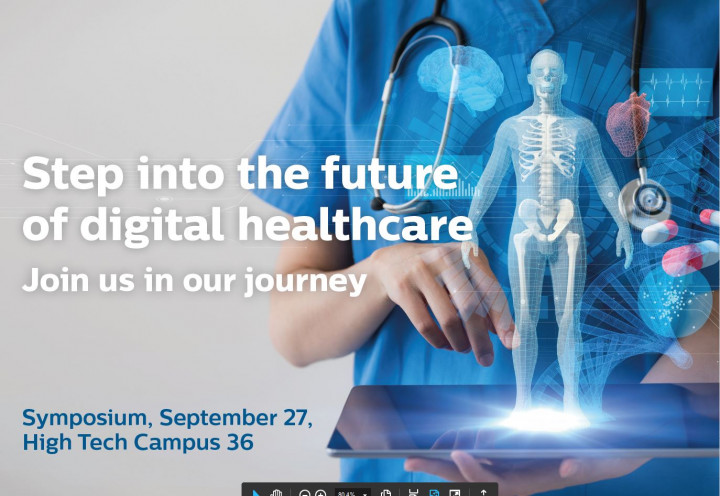 Co-create workshop
Brainstorm with us on new propositions for digital healthcare
Obese patients who have undergone bariatric surgery experience a challenge in changing to a healthier lifestyle when they are back at home. At Philips we invest in research, development and experiments to create effective Hospital-to-Home care solutions for different kind of patients and we use digital technology in this domain. In this workshop you will discover how the care for obese patients is organized currently by hospitals and you will explore new ways of providing extended Hospital-to-Home care to them, offering tools designed to support them in changing daily behavior with regard to food consumption and physical exercise.

Demonstrations
Digital imaging
Increasing pressure to do more with fewer resources, the introduction of new and complex technologies and longer waiting periods present obstacles to many radiology and cardiology departments across the globe. Philips is committed to offering new, smart imaging and healthcare information systems solutions, which are designed to capture the right images in a single go. This helps doctors quickly reach reliable diagnoses and assess how treatments are proceeding, all while straining the patient as little as possible. This in turn contributes towards a positive patient experience. Today, you will have the opportunity to see with your own eyes how we use these solutions to bring about the future of healthcare. At the lung cancer screening, for example, where highly advanced adaptive intelligence is used to help interpret medical images. Adaptive intelligence refers to the filtering and interpreting of data using smart algorithms, offering healthcare professionals better insight into the patient's conditions. This helps establish the correct diagnosis, as well as obtain efficiency gains. We also demonstrate a technology that enhances stent visualization in the coronary arteries. The technology enhances the stent, while fading the background noise and anatomical structures. This image supports in precise placement of the stent.
Virtual & augmented reality
Enter the amazing world of virtual and augmented reality! Within Philips, VR and AR are used for various purposes. For instance as a 'tool' in designing equipment and setting up hospitals. Next to helping our engineers during development, we also simulate the reality of certain situations, such as undergoing an MR scan. AR/VR offers an excellent way to view complex spatial data. Here, too, adaptive intelligence plays an important role: it allows computers and users to better understand one another, leading to improved collaboration. During the open day, you will have the opportunity to see the hospital through a virtual lens for yourself. Or drop by at the digital twins demo, where the future of personalized healthcare is on display.
Oncology
Completely removing a tumor and treating all of the supplying blood vessels, all without harming healthy tissue or organs. The doctor's crucial challenge in treating cancer. Developments in cancer treatments enable new and minimally invasive oncological procedures. Philips' ground-breaking new visualizations lead the way. Along the route, you will find several demonstration that we are eager to share, such as solutions that support a lung cancer risk assessment by applying deep learning to CT lung screenings. It is furthermore extremely important for medical specialists to have access to all of a patient's available information. That is why Philips is developing a software solution to support multi-disciplinary oncology teams in performing a diagnosis and selecting the optimum treatment for each individual patient. We would very much like to show you this as well.

Cardiology
By collaborating with some of the foremost cardiologists, we are working on life-changing options for people suffering from cardiovascular disease. Developments in healthcare technology enable such advances as minimally invasive treatments. These treatments involve much smaller incisions than conventional procedures. This is much less taxing to the patient. We also come up with new ways to reduce the number of examinations, while still providing the doctor all of the insight he needs. That is how we change the way care is provided, and how we improve patients' quality of life. During the symposium, you will be given the opportunity to see how we support clinicians in taking care of their patients by offering a single point of access to all relevant information.