Who is on the ITC team?
Bakx: 'Actually, we'll have two teams in the coming race. This year marks ITC's 25th participation in the race since 1984. To celebrate this, we have registered two teams: one official Run4Fun student team and one alumni team, which should be formed by people who formerly participated in Batavierenrace, so ITC students, alumni, staff members, former staff members - anyone. If it comes to the Run4Fun team, our objective has been to have more students than staff on the team, because we want to stimulate them to do something besides their study.'
And have you succeeded?
Bakx: 'Yes, but it's challenging to get a complete team. Students arrive in September, then winter comes and training is often skipped…'
Engelberts: 'Yes, we often get questions like "Will there still be training today? It's raining, so we thought not." But now, closer to the race, we have regular trainings once a week. We have students from all over the world – South America, China, Africa.'
Bakx: 'It's good to point out that not all Africans are runners. People often comment on that, but we can assure you that they are not all good runners. In either case, we always have a good mixture of countries. Our team includes about fifteen different nationalities. We have the most international team in Batavierenrace.'
Does that come with any challenges?
Engelberts: 'Yes. We are of course all equal on the team, we are all just runners in that context, but some students are afraid to pass us, the coaches. In some cultures it's not allowed to outrun your coach, so we have to tell them it's okay, that if they can do better than us, they should.'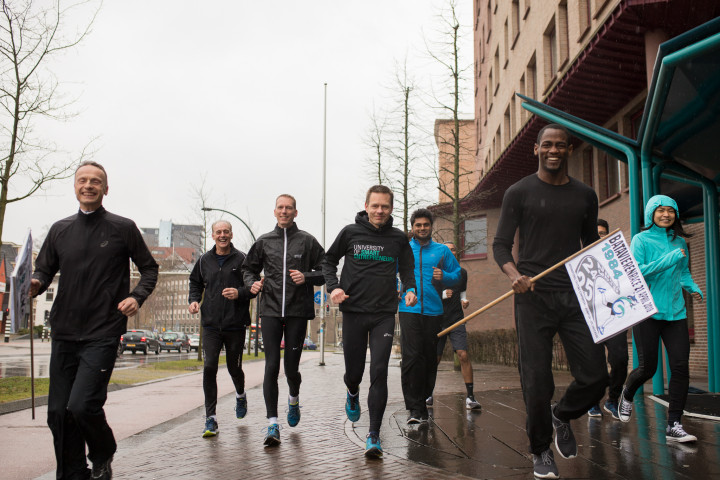 Bakx: 'Cycling can also be an issue. Not all our students can cycle. We usually need to find a bike with an easily adjustable seat. We also can't just leave a team member somewhere, so we organize all transportation. For our students, it's really a once in a lifetime opportunity, so we don't want any mistakes. Yes, we need to deal with issues that usual Bata teams don't think of.'
Engelberts: 'We have people who never ever ran before. They have no running shoes, no experience. Experience that we can't pass on. For instance, we had a participant who ran a half marathon the week before Batavierenrace. He got injured and couldn't perform well on our team. He finished his stage limping and without a smile. That is something we try to prevent as much as possible.'
But I gather you two have a lot of experience. How many times have you ran in Bata?
Bakx: 'I think Simon has ran it eight times. And I have participated ten times. The first time in 1988.'
As the team's name 'Run4Fun' suggests, do you only run for fun or are you in it to win it?
Bakx: 'No, it's just for fun. The students are often afraid, but we tell them they don't have to run fast, they only need to reach the finish line with a smile. Speed is not important. We're not in it for the victory. Glory is seeing smiling faces at the finish line.'