Tessa de Koning Gans
PhD research topic:  Development of an attractive anodic process to pair with the electrochemical reduction of CO2
Work: PhD candidate at the Photo Catalytic Synthesis group, Faculty of Science and Technology
Education: Master's degree in Chemical Engineering, University of Twente
Originally from: Zwolle, the Netherlands
Why I'm here
'This year marks my tenth year at the UT. I came here in 2013 to study Chemical Engineering, stayed for my Master's and worked as a researcher for one year. I tried to find funding to turn my master project into a PhD but that didn't work out and I decided to leave and get a job in industry. In my last week at the UT, I attended a colleague's PhD defence and talked to a head of my current group, who offered me a nice PhD assignment. When I found out that my project would be part of a big consortium and closely linked to industry, my mind was made up.
'I'm a naturally curious person'
I really like research. I'm a naturally curious person. I always want to figure out how things work and why. When I was working on my Master's assignment, I looked forward to going to the lab on Monday mornings. On Sundays, I'd be thinking: I can't wait to see how my experiment worked out! That made me realize how much I actually enjoyed research.'
Playground
'I'm in the second year of my PhD and so far I'm enjoying it more than I thought I would. When I was a student, I used to say that I would never ever do a PhD. I thought you'd have to focus on this one small topic for four years, but it's a lot more diverse than that. You take courses, you do research in a lab, you interact with colleagues and companies, you teach. It's very dynamic.
The first year is about figuring out everything and understanding the fundamentals. When you are busy with the process, you don't always see the progress you're making. Looking back now, though, I see how much I've already learnt. The other day, I was thinking "I'm learning so much cool stuff and I'm getting paid for it!" A lab can feel like a little playground where you can try new things. My reaction also involves colour changes, and so it's a lot of fun to watch. I like experimental research. I prefer working with my own hands and creating things.'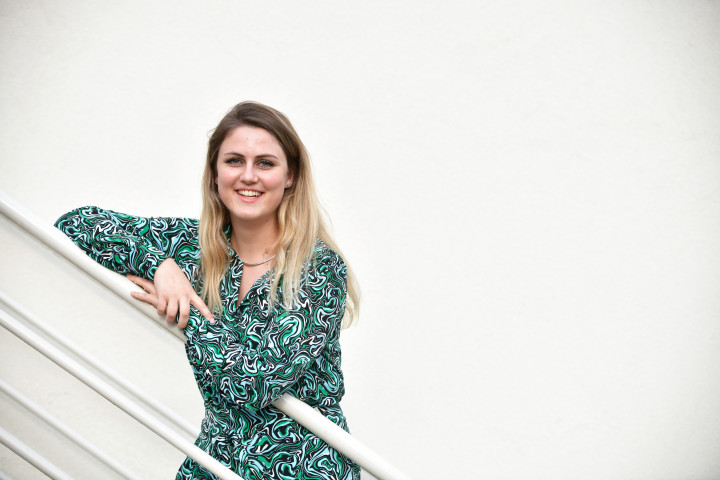 What I do
'My PhD research is in the field of electrochemistry. It is part of a big project on new chemistries for sustainable future. We are working on using CO2 as a building block for chemicals that can sustain our society. I like it because it allows me to move things in the right direction. Due to the ongoing climate change, I want to actively work towards solutions.
My research can be a bit hard to explain. There are two electrodes in an electrochemical process: cathode and anode. A reaction that can take place at the cathode is the reduction of CO2 to other building blocks such as carbon monoxide or ethylene. This reaction is a hot topic and a lot of people are studying this, but  to make an industrial application out of it, you need to consider the whole reaction system. On the anodic side, you need an oxidation reaction that is paired with the reduction reaction. That is what I focus on. In my research we try to find an alternative oxidation reaction to create useful building blocks at the anode as well. Providing an alternative way to produce chemical building blocks that we currently get from fossil fuels. We try to make the production of these base chemicals more sustainable and greener. I'm pretty sure I want to work in R&D department in industry after my PhD. There are a lot of interesting challenges ahead of us. It's cool that I can be part of the solution.'
Diversity
'I love the freedom to shape my process and my own experience. That is the most fun and the most challenging part of doing a PhD. You are in charge and you are the one responsible. What's also really fun is working in a very international environment. As a student, I didn't fully understand the internationalization debate. Learning about intercultural differences can really broaden your perspective. And I came to realize that it's really valuable. Our group has people from all over the world. It's like a microcosmos of cultures – here at this one group in Enschede. That is really cool.
'We can be professors too, if we want to'
Recently I also joined the board of the Female Faculty Network Twente (FFNT). When I was studying, all of my professors were men. In engineering disciplines, the male-female balance is still off. By being a FFNT board member, maybe I can make this a little bit better – and maybe one day there will be more women teaching. It's important to get more role models, so that young girls consider engineering as a viable path to take. We can be professors too, if we want to. A boy at school actually told me once that I could never be a professor, because I was a girl. That made me very angry. Joining FFNT allows me to make impact on another level. My time at the UT gave me so much and I also want to give back.'