Supported by DesignLab, students Denisa-Valentina Licu (Interaction Technology) and Nino Kolen (Industrial Design Engineering) were the ones who designed and built the HoloProjector. 'We were tasked to make a hologram projector, because the idea behind the Council of Coaches is to make the interaction with virtual coaches more realistic and interesting,' explains Kolen.
While Licu was responsible for the device's hardware, Kolen was in charge of the design. He explains why they decided to create the projector in a shape of a pyramid. 'There are four cameras facing four directions of the object, eventually producing one image of all four sides. An image of a coach in this case. There are four screens on the top, all reflected on one side of the pyramid. You need an angle of 45 degrees for them to be reflected clearly. The shape is therefore purely practical.'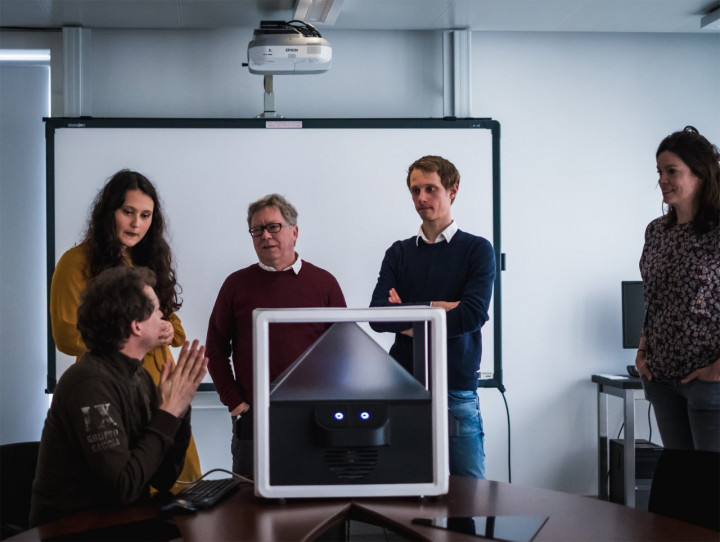 Photo: Dennis Reidsma, Denisa-Valentina Licu, Hermie Hermens, Nino Kolen and Monique Tabak with the HoloProjector.
The HoloProjector is based on a very old technique, the so called "Pepper's ghost", says Kolen. 'It is an illusion technique that has been used for a couple of hundred years. It is simple but it gives the best results.' The basic technique for displaying the 3D coach might be 'simple', but the rest of the HoloProjector is not. 'It contains a very powerful computer able to run a special software. Moreover, the device is equipped with speakers and sensors, so that people can interact with their virtual coaches via buttons, sounds and various interfaces.'
The students are still applying finishing touches to the projector, but it will soon be used for experiments to study the effects of this type of coaching technology. 'The HoloProjector is not an end product that should be sold to customers,' clarifies Kolen. 'It is a prototype that should help the researchers to explore all the possibilities, to see what is the best way to use virtual coaches for personal advice on healthy living and wellbeing.'
The HoloProjector has been created with the help of DesignLab and UT researchers Hermie Hermens, Dennis Reidsma and programme manager Monique Tabak.