How long have you worked at the UT?
'One year. I teach English and academic writing.'
You are originally from the U.S., right? What brought you to the Netherlands?
'Yes, I'm from Michigan. I came to be with my partner. So I came for love. Quite a common reason. I did my master's degree at the University of Maastricht before moving to Enschede.'
Do you like living in Enschede?
'Yes, definitely. One of the nice things about European cities is that they have city centres – with squares, markets, cafes -, where you can just sit and relax, observe people around you. We don't have that where I'm from.'
Was it difficult to adjust to living in Europe?
'There is always a certain amount of culture shock, but some of it is good. Sometimes you find yourself thinking, "I like the way they do things." I like that everyone around here can basically walk or cycle anywhere, that there is a good public transport system, that you don't need a car all the time like where I'm from.'
Are you single, married, in love?
'Almost married and definitely in love. We are getting married in August. It will be a very small wedding, some members of my family are coming, but we will have another party in Michigan for the friends and family who can't make it.'
How did you meet your future husband?
'That is a nice story. When I was thirteen and he was sixteen we met on an online forum for fans of The Lord of the Rings. We started talking and became very good friends. Then we lost touch for a while, but we reconnected through Facebook, started talking and thought, "There is something here." We met in person for the first time four and half years ago. Actually, it will be precisely five years on our wedding day. When I came here, I was quite nervous, but figured that we would have a good time either way. As it turns out, we are also compatible romantically.'
Given that story, I think there is no point in asking what your favourite book and movies are.
'I have many favourite books, but I do still come back to The Lord of the Rings. Many people don't care for the books, but I like them. I find them comforting.'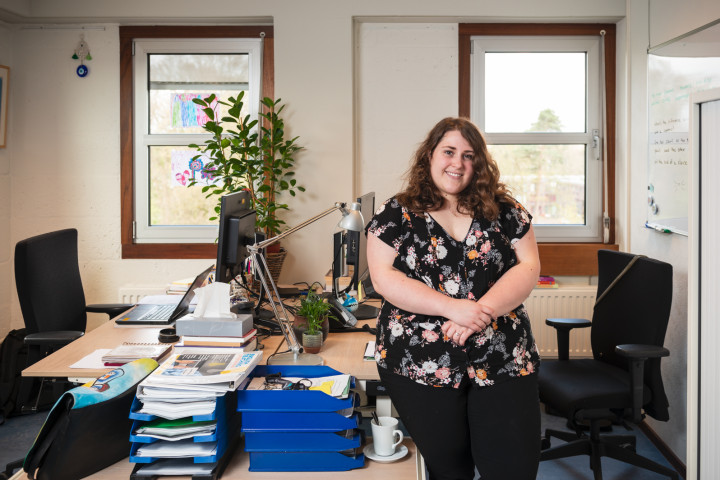 Have you picked up any new hobby recently?
'I just finished a professional development course, so I haven't had much free time. But my fiancée Ton recently bought a new gaming console, so we have been playing a lot of Mario Kart.'
What are the three things that you would take with you on a deserted island?
'A very good knife, something to start a fire with and a really good pair of shoes.'
You are all about survival.
'Yes, for sure. A lot of people think that because I'm American I'm from a city, but we used to spend every summer out in the woods. I spent my holidays chopping wood, fishing, canoeing. People are sometimes surprised by that.'
What is on your bucket list?
'I've been thinking about going to Iceland a lot lately. Those thermal baths look really nice and it seems like a great country for hiking. I like being outside, in green areas. That is why I like Twente. It's a beautiful region, perhaps even a little underappreciated. We actually just found a new house in a more 'green' part of Enschede and we should get the key next week. It's great timing too, because it's a bigger house, so that means more room for our wedding guests. That was one of the cultural adjustments I had to make after moving to the Netherlands – the size of the local houses. And the stairs! I find the Dutch stairs frightening. So steep! I always make the joke that the Dutch word for stairs is "trap" for a reason. It's a trap!'