Where are you from?
'I come from Bolivia. I have lived in the Netherlands for about two years. Actually, I think I came here on the 30th of October, so almost exactly two years ago. We moved here from Belgium together with my husband, because he got a job at the UT.'
Is your husband also from Bolivia?
'No, he is from Brazil. We met in Europe and we have been married for five years. I came to Europe for studies – I was studying Economics in Bolivia and I came here to get a Master's degree in Culture and Development.'
What keeps you busy these days?
'I'm travelling to Mexico next week, so I'm busy with getting everything ready. I'm going there for work to represent the university at a 'Study in Holland' fair and other events. It will be my first time in Mexico, but I don't think there will be a lot of time for looking around.'
Is Europe really different from Bolivia?
'Yes, it is very different. Although there are some similarities, especially if it comes to Dutch people. Because Dutch people also love to party, they laugh a lot, they talk loudly. They are easy to approach. I didn't feel that in Belgium. Belgians seem really shy and almost too polite, so there is always a wall between you. Also, here everything is really organized. Bolivia is more chaotic. But it also feels like you have more freedom because of this chaos.'
What should everyone know about Bolivia?
'It is a very beautiful country and it is very diverse. We have three main regions and each one has a completely different nature, people, culture, food, weather. If you travel from one to another, it feels like you are entering a new country. People in each area have a completely different outlook on life.'
Do you like to travel?
'Yes, I absolutely love to travel. To see different places and people, taste different food.'
What was the nicest place you visited?
'That is a tough one. I think Greece, specifically Crete. That was one of my favorite places. When I was there, I felt like I was in a middle of a postcard. It felt too beautiful to be real.'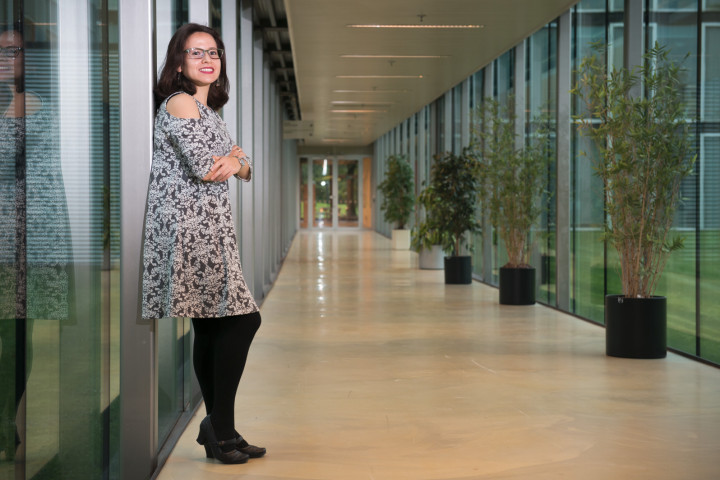 What music do you like?
'I enjoy happy music, especially Latin American music like salsa. I really like to dance and I was even a Zumba teacher for a while. I recently joined the 4HappyFeet association here and we have salsa lessons every Monday.'
Besides salsa, what other hobbies have you picked up recently?
'I like sports, but I have not been very active lately. I plan to do something more intense next year, such as aerobics or boxing. I prefer sport activities done in groups and I enjoy if the sport is connected to music.'
If you weren't working here, what job would you be doing?
'Maybe I would have chosen a bit more artistic path. But it is too late now. Maybe I would be a professional dancer. However, such a career is very difficult in Bolivia, it is hard to make a living with it. I considered it when I was young, but after talking to my parents I realized it would be very hard to make money with it.'
How often do you go back to Bolivia?
'I try to go at least once a year. This year I will go during Christmas and escape the winter. So I'm lucky.'
Do you struggle with local winters?
'Yes, I do. I especially struggle with the darkness. In Bolivia it is always sunny and warm, so when it is dark and grey, it is quite difficult for me. But I definitely can't complain. Yes, the weather isn't the best, but there are many good things in the Netherlands. It is possible to work part time here depending on your personal situation. In Bolivia, you always have to work full time – and that means more than forty hours a week -, so it is difficult to have a life outside work. Here it is a priority to also have time for your family, friends and hobbies.'
Do you have any pets?
'No, but I love dogs. Now we don't have any, because we live in an apartment, so it is not practical, but we are moving to a house and then I want to get a dog again. I really miss my dogs. Life is different with dogs. If you are sad, they comfort you without you having to say a word. When you are happy, they are happy with you.'
What does your perfect evening look like?
'That depends. If I'm not too tired, I like to go dancing. Go to a party where everyone is happy and relaxed. If I'm tired, I just want to sit on a couch and watch a good movie.'
What three things would you take on a deserted island?
'A book not to get bored. A Swiss army knife. And food.'
What is on your bucket list?
'Nothing specific. Plans keep changing.'
What message would you send to your younger self?
'Go with the wave. Because we can make a lot of plans, but life goes its own way. If we learn to adapt, everything will work out.'