'What are the people doing in this picture?' asks our tour guide Agnes van der Tol. Hands tucked behind her back, she begins sliding across the hardwood floor. 'They are skating! "Schaatsen." Repeat after me. "Schaatsen." That is a word you will need to know. That is typically Dutch.' Except, she says it all in Dutch, in as simple words as she can muster, because we are all foreigners here.
All twelve us on this tour are UT students and employees from everywhere but the Netherlands, joint in the effort to broaden our vocabulary. In fact, many of the participants are here as part their 'Dutch Intensive Summer Course' and only arrived to Enschede a week ago. 'I'm enjoying it but it is a bit difficult for me. On the other hand, that is how you learn,' says Can Ölmezoglu, first year student of Computer Science from Turkey. 'Luckily, the guide uses a lot gestures to demonstrate everything so I can follow.'
The shoemaker and the fabrics
No time to chat, though. We have assignments to complete. The first room we visit is filled with landscape paintings and after we discuss the types of scenery and weather portrayed in the pictures, we turn to our clipboards to fill in the first task: describing a typical Dutch landscape. In Dutch, naturally. So now we know what 'rots' means. (It's 'rocks' to save you the trouble of looking it up.) And we also learn the Dutch word for 'lace'. Because in the next room we are handed out small pieces of different fabrics which we need to match to the clothes worn by the people in the portraits.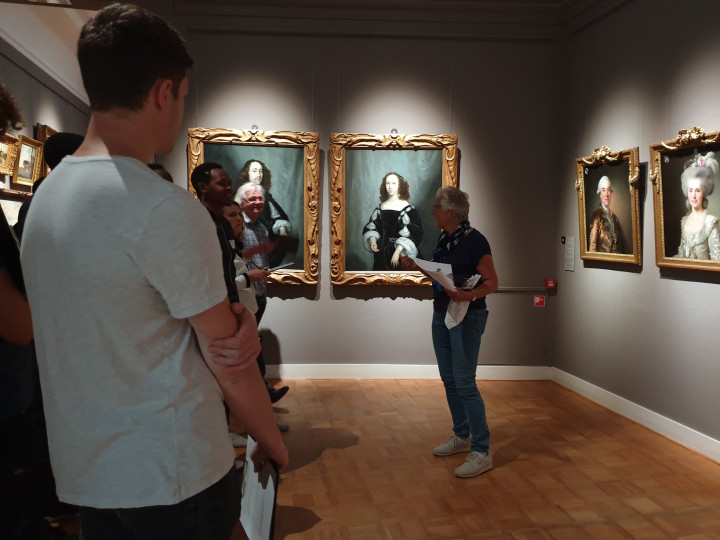 'I actually had to go to a shoemaker to get some of the samples. And I went behind his counter to make the holes in them,' confesses Céline Schouten, a teacher at the UT Language Centre and the person who developed the brand-new tour. 'We are a region with a lot of newcomers from all over the world. This is a beautiful way to meet, to learn about the Dutch culture and history – and to learn new words. We will offer the tour after every beginners' course, but I would like to make it available to all newcomers in the region, not just from the UT.'
Mysterious scents
Schouten went further than just the shoemaker when creating this programme. She approached a company that makes scented soap and asked them to deliver a series of samples with interesting (and slightly difficult to guess) smells. 'Some of the soaps were developed specifically for us,' she adds. 'You know the beer soap, for example? That didn't exist until I asked them to.'
Beer! Is that what it was? 'It smells like fruit going bad,' says one of my fellow participants. We are in the last room of the tour, attempting to guess the smells hidden inside ten small jars. 'A hint. Most of them smell like things that you can see in these paintings,' Agnes van der Tol, our volunteer guide of the day, points to the walls.
'I thought it was really good. I enjoyed how interactive it was,' shares Andre Bester, a new employee at the BMS Lab. Agnes is happy to hear that. 'This was our first ever tour but I think it went really well. I liked it very very much. Now tell me. Who will go skating?' Silence follows. 'Nobody?! But there is an ice ring right here in Enschede! Maybe your course should arrange a lesson there next.'