In zijn verhaal manoeuvreert Piedmont zich niet als een uitgesproken voorstander van het gebruik van psychedelische drugs, maar ook niet als tegenstander. Hij antwoordt volmondig 'ja' op de onvermijdelijke vraag of hij zelf ervaringen heeft met deze middelen. En zijn kinderen? 'Indien ze oud genoeg zijn, het op een verantwoordelijke manier toedienen in een veilige omgeving, zou ik er geen problemen mee hebben dat ze het gebruiken', luidt zijn antwoord.
Demoniseren
Wat Piedmont vooral steekt is de onwetendheid en het demoniseren van psychedelics. Dit komt volgens hem door de beeldvorming in het onderwijs en de media. Psychedelische drugs als gevaarlijk bestempelen, vindt hij misleidend. Ook pleit hij voor decriminalisering van de drugs. Hij haalt enkele studies aan die onderstrepen dat er op sociaal en statistisch vlak geen steekhoudende argumenten tégen geestverruimende drugs te bedenken zijn.
Alcohol
De vergelijking met alcohol gaat hij niet uit de weg. 'Als je tegen iemand zegt dat het prima is dat je alcohol nuttigt, indien je het op een verantwoordelijke manier en met mate doet, is er vermoedelijk niets aan de hand. Vervang je echter het woord alcohol door psychedelische drugs, krijg je waarschijnlijk scheve gezichten.' Hij haalt er een staafdiagram bij. Die laat de daadwerkelijke gevaren van psychedelische drugs zien, in vergelijking met hoe gevaarlijk mensen het ervaren. Het verschil tussen deze twee diagrammen is bij alcohol veruit het grootst.
'Psychedelische drugs-cultuur'
Ondertussen doen de bezoekers zich te goed aan de tosti's. Een enkeling kiest voor kaas als beleg, een ander voor champignons, en weer een ander heeft graag beiden. Één van de studenten heeft geen enkele interesse in het aanwezige eten. Hij stelt dat er in Amerika een vrij grote 'stoner-cultuur' is. Zijn vraag: 'Denk je dat er op den duur een 'psychedelische drugs-cultuur' van soortgelijke grootte kan ontstaan? Piedmont: 'I think the psychedelic culture is already there.'
Graag had de UT-alumnus nog veel langer doorgepraat met de studenten, maar op een gegeven moment breit hij er tóch een einde aan. Grappend: 'We'll finish this conversation tomorrow on the coffeeshop couch.'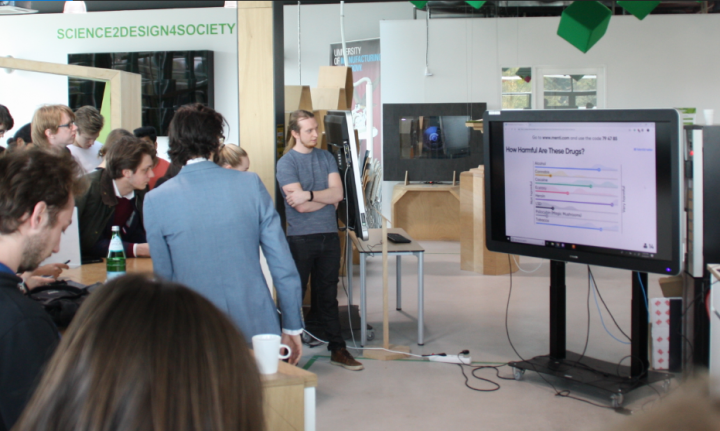 Aanleiding voor de tostitalk is The Collective Unconscious, dat een meditatieruimte, of retreat house, in de Bastille heeft. Piedmont is de oprichter van het initiatief.