'A birthday is not fun if you don't get to break anything,' said Reynaldo Cobos during the Piñata workshop organized by the Latin American association LA Voz. Cobos, a Mexican researcher at the UT, explained to the international audience how Piñatas have become a must in many Mexican celebrations. Participants were asked to stuff premade piñatas with candy. 'The goal is to break the piñata and fight for the candies,' Cobos explained, 'and when I say fight for the candies, I really mean it.' At the closure of the workshop, participants went out in the field to break the stuffed piñatas. Despite the actual fight for the flying candies, no serious damages were reported.
How to wear a hijab?
Dwi Resty and Eva Nurlatifah are two Indonesian students who explained what wearing a hijab meant for them. They shared reflections on women from various countries who see hijabs as a way to express their Muslim identity. Resty and Nurlatifah proceeded to teach step by step how hijabs can be worn in different styles, and participants followed the instructions as they arranged hijabs on their heads.
Raluca Ezaru, a Romanian student who won a pashmina after making a final demonstration of how to wear a hijab, shared her opinion on hijabs. 'It can be a way to express yourself. For the girls who choose to use it, the belief they have in it is really interesting.'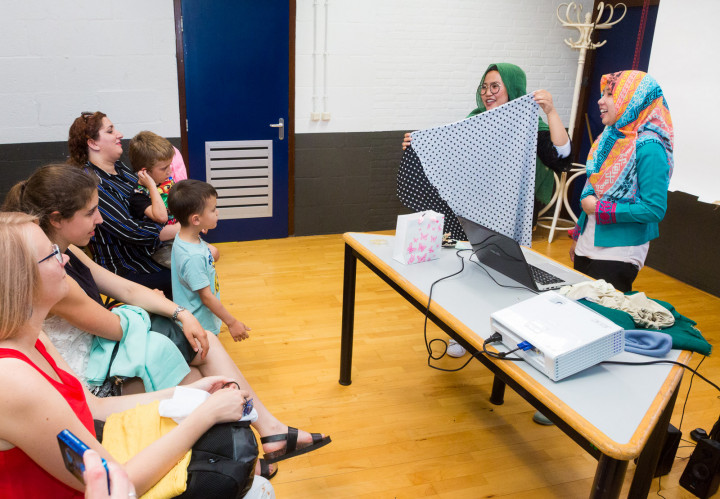 Studying in China
To provide insights into the Chinese educational system, PhD candidate Jason Song gave a talk at the Global Lounge just before the audience was invited to learn how to make dumplings. Besides education in China being mostly exam oriented, 'the relation between professor and student is quite different,' explained Song, 'the teacher is more like a father figure, in the sense that we have high respect for our fathers, and professors need to be just as respected.'
Song shared he was positively surprised by the amount of interest shown at the event. 'It can be intimidating to expose yourself to new cultures. It's great to see that many people are interested in ours.'