The 4TU.School for Technological Design, Stan Ackermans Institute offers around 20 educational programmes related to technological design at the technical universities in Delft, Eindhoven, Twente and Wageningen. Each programme leads to an Engineering Doctorate (EngD) qualification. Whereas the more familiar PhD entails spending four years doing research, a two-year EngD is focused on the direct application of knowledge.
Process design programme
Job Nijhuis did his bachelor and master degrees in Chemical Engineering at TU Eindhoven, with a focus on chemical process technology. He completed his studies in December 2020, but he was keen to continue learning. 'I was still interested in a number of subjects that I hadn't had room for in my master, but I regarded a PhD as being too theoretical. On the TUe website, I noticed this process design programme that's much more focused on applying your knowledge in practice.'
The EngD is a two-year programme. In his first year, Job studied around 30 different advanced subjects by focusing very intensively on one subject per week. 'Some of those 30 subjects weren't perfectly aligned with my interests, and you don't become an expert in them, of course, but it was a good way to gain exposure to many different aspects of potential career opportunities.'
Two-year programme
Now in his second year, he is working on a design project related to energy savings on behalf of a large company. 'The project is a combination of saving energy in the short term by identifying the 'low-hanging fruit' on the one hand, and a research question on the other: how can this factory benefit from heat pumps? How can we design a circular energy network within the factory so that the facility could become gas-free, for example? I'm tasked with analysing the water and energy flows in the factory and exploring how a heat pump could be integrated into the process. It's not only super interesting but also useful, because it's an urgent challenge. That's precisely what you do during an EngD: tackle more complex issues and design solutions for them.'
Benefits
'In my view, an EngD offers various benefits. I'm expanding my knowledge in my chosen domain, it makes it easier to gain relevant work experience, and I still have lots of opportunities to do other things outside of my work. Besides being an ambassador for the EngD, I'm also chair of Atmos which is the association for EngD trainees across all nine EngD tracks. It's not all hard work and no play. We also organizes fun activities.'
Another benefit is the personal guidance. In addition to the supervisor from within the company where I work, I also have two supervisors at the university. One of them is focused on my project itself, and the other helps me to develop my skills in presenting, giving feedback and writing reports, for example. So you receive all kinds of support to prepare you for the next step, and I really appreciate that. So, if you still want to continue working on your own development, if you're keen to explore all the possible options and if you're not yet ready to commit to an employer, then an EngD is an ideal opportunity.'
Reasons to apply
Does the Engineering Doctorate traineeship appeal to you and are you interested in becoming a technological designer? At 4TU.SAI we are always on the lookout for talented engineers with a master of science degree in a technical subject and who are keen to further develop their design skills. We currently have various openings in Delft, Eindhoven, Twente and Wageningen.
Engd
Keen to know more about EngD programmes?
Visit the website: www.4tu.nl/sai
Text and photo: Leo Koomen
4tu career special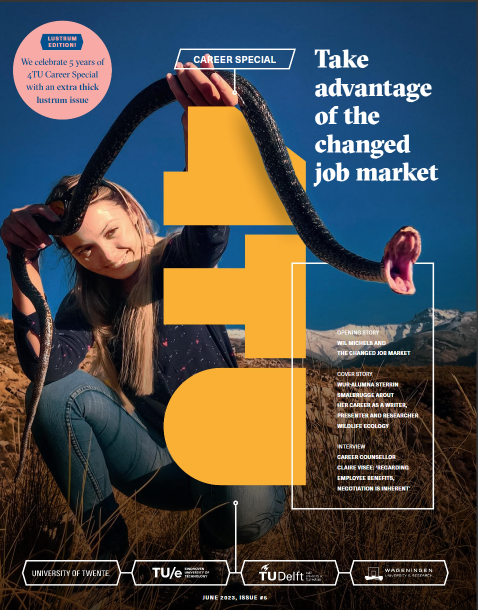 Deze advertorial verscheen eerder in de 4TU Career Special.