'This is amazing news! We are so honoured to be recognised as the startup of the year. Winning competitions like these shows that hard work pays off and it means a lot that our effort is recognised. And we can't wait to present ELLURE to the world', says Li.
Ellure.se is founded to solve a beauty problem. What colour to choose from the mass-produced, off-the-shelf lipsticks when the colours appear different on different lips? Ellure offers a personalised liquid lipstick in an on-demand fashion. The customer can personalise their own lipstick to the criteria she or he wants. In so doing, Selah Li, says that this mass personalisation solution helps reduce waste. 'Our mission is to make beauty products that are loved by people and the planet.'
Augmented Reality
The three co-founders started in 2017 after they met each other during their studies Human Computer Interation and Design at the EIT Digital Master School. They have been developing their solutions, a web based Augmented Reality (AR) system customers can try the colour in AR, a small scale built production machine that can realise over 10.000 different colours within one minute, an algorithm to design the colour, and a lipstick formulation that is suitable for automation, in the last three years. This year they are going to the market, they already have a waiting list of over 600 customers built up in the last two months.
Marc van Almkerk: 'Due to the nature of the company, we work at the intersection of the digital and physical world.' Van Almkerk manages both the development of the hardware, lipstick printers, as well as the software, managing the color algorithm and business logic.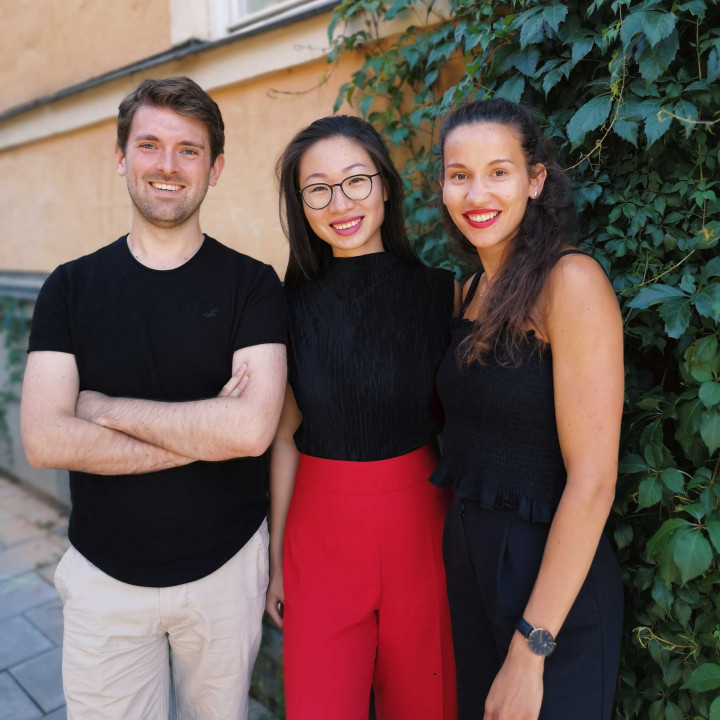 'What is it like to work in the lipstick industry as a man? At first I had to adapt to it quite a bit, as I am not interested in lipsticks per se. This made it hard for me to understand the problem at first, as it was hard for me to relate to people that do use lipstick. Luckily my co-founders are female, so I could trust on them to make the right decisions on that part.'
By learning more about how colors work and interact with the environment, Van Almkerk is able to objectively understand their needs. 'As I scientifically understand why the same color can look different between various people, I am still able to address the problem.'
From the core, the company is build on the vision to change the creating and use products through on-demand production. New technologies, like artificial intelligence and augmented reality, allow the company to understand peoples needs in completely different ways. 'We can also be more responsible for how we fulfill those needs. We started with lipstick as we saw an opportunity between the product and the extra value our process can bring, but that does not mean it's the only product that can be innovated upon. Right now we are working with liquid material, so in principle any kind of liquid cosmetic/personal care product would be possible to personalize with the technology we developed. E.g. foundation, shampoo ect.'
According to Li, Ellure will be launching within a few weeks a pre-order of Ellure's liquid lipsticks to the market via its website. 'It's a limited edition sale with only 200 lipsticks available.' The official launch of Ellure is planned in October with pop-up stores and events 'to show how a custom-made lipstick is made in just one minute.'
(Text: EIT Digital & U-Today)