While the Spanish capitol is still waiting for its first real rain shower in six months, the students who enter the premises of Universidad Politécnica de Madrid don't have to wait too long for refreshments. That's all being taken care off. Away from the crowded and lively city center, they enter one of the giant buildings on the local campus. This campus weirdly enough has a kind of old-school Russian look and feel to it: minimalistic, overly functional architecture and lots of concrete and small windows don't give out an overly welcoming vibe.
What is EIT DIgital?
EIT Digital is part of the European Institute of Innovation and Technology (EIT), which is the research and development agency of the European Union. EIT Digital is focused on entrepreneurship and wants to integrate education, research and business. It has locations in ten European cities, and has a hub in Silicon Valley (San Francisco).
Cheers, laughter and hugs
But inside, the festive and welcoming atmosphere is definitely noticeable. Waiters are quick to serve drinks and all kinds of local delicacies like Ibérico ham, cheeses and salmon to everyone present. Here, the students are gathering for the moment they've been working towards for two years. It's graduation day, finally. The reunion between old friends, followed by cheers, laughter and hugs are an abundant acknowledgement of that.
'We expect you to be a voice, not an echo'
It's a diverse crowd of students, which is no surprise considering the broad pan-European network the EIT Digital Master School entices. The institution collaborates with nineteen technical European universities, among them the Dutch technical universities: UT, TU Eindhoven and TU Delft. Students who get into the Master School – you first have to apply – follow one year of the Master's programme at one university and one year at another one.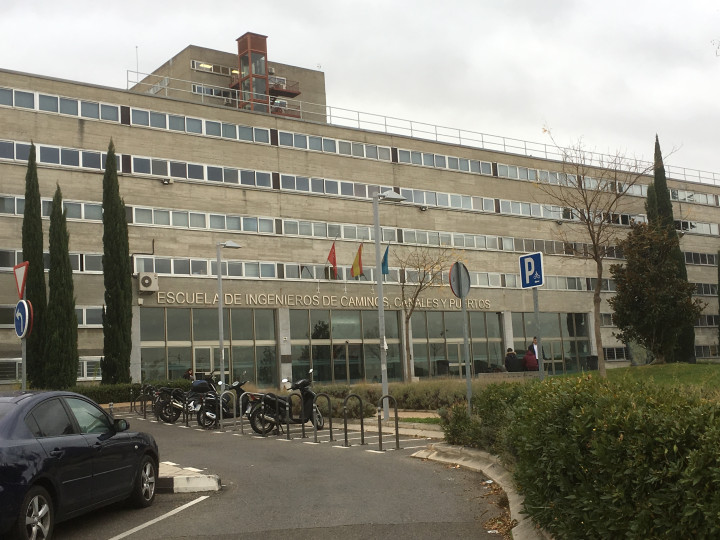 The master school
The Master School is part of the EIT Digital Academy, which includes a Master School (for Master's students), a Doctoral School (for PhD's) and a Professional School (for professionals). The Master School offers eight different programmes, two of which are offered at the University of Twente: Cyber Security and Human Computer Interaction and Design.
Best of both worlds
UT alumnus Paul Velthuis (24) decided to apply for the EIT Digital Master School, after his Bachelor's in Business & Information Technology. 'I lived on campus, so I already got the authentic UT experience,' he says. 'While I liked it, it was time for something different. I wanted to go for a more international experience. Which I got in Berlin, Stockholm and Darmstadt. Berlin is such a lively city! Stockholm was a little too cold for my taste, so during my second year I switched locations and went to Darmstadt. There, I was able to get an internship at the renowned Fraunhofer institute.'
Now, Velthuis has already secured a job, at an Amsterdam startup called Xomnia. 'I'll be starting next week,' the former UT student says proudly. 'They train data engineers and hire them to other companies. I'll get the opportunity to work for large companies, but I can add a kind of innovative startup spirit to their activities. Let's hope it leads to the best of both worlds.'
Small city, big city
The best of both worlds is also what student Maria Kanov was looking for, when she joined the Master School. She started her first year of the programme in Enschede. She went to KTH in Stockholm for her second year. 'I wanted to combine an experience in a small city with one in a bigger city. I had no real expectations when I came to the UT. I had honestly never heard about this university before, but I was happily surprised. I had a great time, the courses were good and strongly focused on business development and the teachers were really involved.'
'The execution is what makes the differences between someone who fails or succeeds.'
Now she's finished her study, Kanov wants to come back to the Netherlands. 'I fell in love with the country. So much that I did my best to learn the language. Now I'm ready to find a job, preferably at a big company where I can apply the things I've learned here. What those are? Mainly it's combining in-depth ICT skills with a human and entrepreneurial factor.'
'Intrapreneurs'
It's the very same sentiment that several speakers who entered the stage during the graduation day kept reinforcing. Amongst them UT professor Willem Jonker, who is also the CEO of EIT Digital. It's all about combining ICT skills with an entrepreneurial spirit at EIT. 'Entrepreneurship is a mindset, not an occupation. So it's not necessary that you start your own business. It's about taking that mindset and applying it within any organization,' says Jonker. His aim is to educate the leaders of tomorrow's digital society. 'We expect you to be a voice, not an echo. You have to be the ones who translate knowledge into real societal impact.'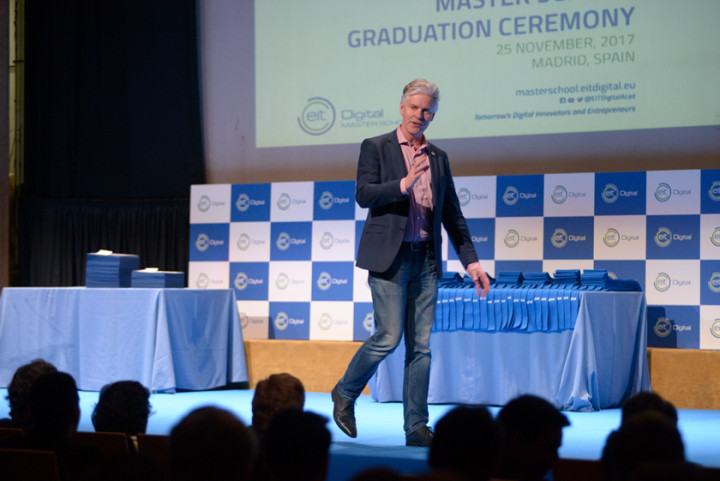 UT professor Willem Jonker on stage at the graduation event.
One of the main messages of the graduation day is that if you want to make impact on today's society, it's not all about starting businesses. Quite often on this day, the term 'intrapreneur' is fabricated. In other words: someone from within a company who accelerates transformation and innovation. To take down barriers and help a company grow from within. Jonker believes this is necessary, for European companies to start competing with large American companies like Google and Facebook that are monopolizing entire industries. 'It's no surprise that the world's leading tech companies are run by entrepreneurial engineers. That's what we're teaching our students to become. While you can't have too many captains on one ship, you do need people within your business who can keep on reinventing. It's not only about seeing opportunities. The execution is what makes the differences between someone who fails or succeeds.'
'Make digitalization work, but make it work for everyone'
Responsibilities
It sounds like quite a challenge and a lot of responsibility for these freshly graduated students. But the people of EIT Digital truly believe their students are up for the task. Or, as Patrick Hartigan, head of the Master School, states: 'You have to be the ones who lead tomorrow's society, but you have to be inclusive. Make digitalization work, but make it work for everyone.'
But this day is not about responsibilities. It's a day to celebrate. For these students to look back on their achievements, but knowing the future will be full of even bigger challenges than they've faced before. Because changing the world is something that never comes easy. Time can only tell if these now-graduates are up for the responsibility.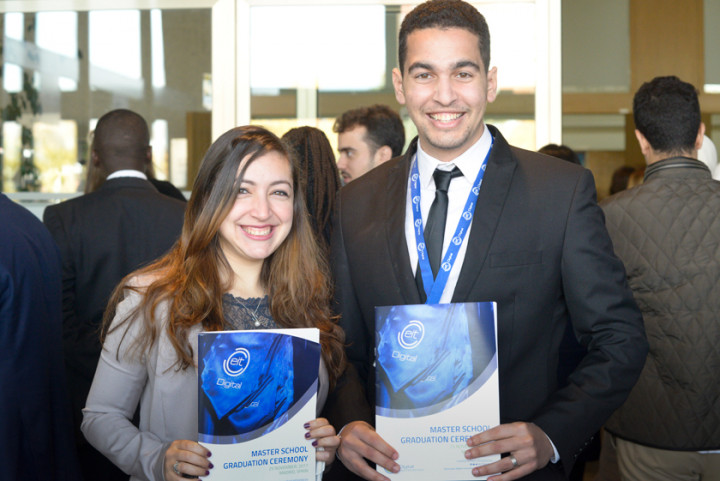 ---
U-Today was invited by EIT Digital to cover this graduation day in Madrid.